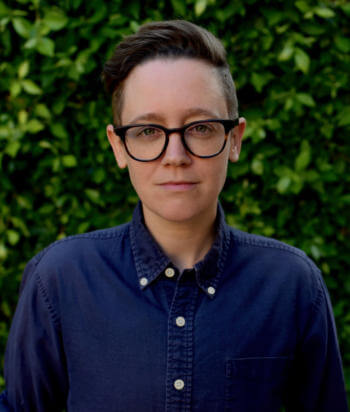 Actor Bio
Petey J. Gibson is a queer comedian, writer, and Groundlings-trained character performer based in Los Angeles. Their recent writing/producing/acting projects include Meals with Mary (a show Elizabeth Banks' Whohaha.com called "complete magic… the best cooking show to ever exist") as well as the Somerville series with collaborators Gregory Hoyt and Brian Girard. Recently back from a headlining spot at the Women In Comedy Festival, and host of the 10-year-running live variety show The Mary Dolan Show, Petey's versatile comedic character work has been dubbed by NPR as "fearless onstage…subversive and versatile."
Outside of the performance realm, Petey also serves as Head Counselor and Head of the Theatre Program for Brave Trails, a leadership camp for LGBTQ youth. As both a youth mentor and youth improv instructor, their work in the queer community serves as an investment in raising young queer folks to be proud and powerful, especially within the trans and genderqueer population. They also work with elementary school children through the Story Pirates program, teaching fiction writing in public school classrooms and then performing kids' stories back to them.
As a writer, Petey's work on "they/them pronouns" and Queer Heroes has been published by Teen Vogue, and other pieces featured on blogs BK Nation and The Ordinary Girls.
Characters
There is 1 character listed for this actor; none are dead.
This page was last edited on January 19th, 2019.