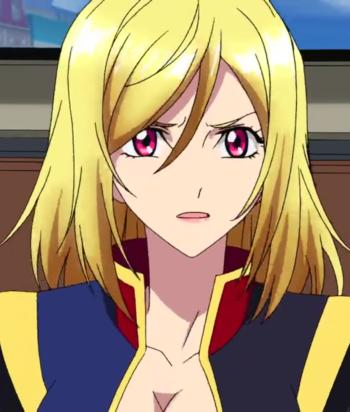 ---
Also known as Angelise Ikaruga Misurugi. She is 16 years old and the first princess of Misurugi. Before the events of the series, she is designated to be the next in line to inherit the throne, but she is a Norma who grows up believing that she could use Mana. On the day of her coronation she is exposed by her ambitious brother, Julio, who strips her of all royal privileges and exiled to the island of Arzenal, where she faces the harsh reality of being a mail-rider who is drafted to fight the DRAGONs, in which she must now struggle everyday to stay alive or be killed by the DRAGONs.
Initially unwilling to accept her true identity as a Norma, she sees and treats other Norma as "things" much to the anger of those around her even after coming to terms with the truth. Proud and antisocial, she does not converse with others, talks only when talked to and fights back when ridiculed. After spending several days with Tusk on a deserted island she begins to opens up to others. Despite this, she is quite skilled in using a Para-mail and has good physical abilities. The only remaining possession she has from her old life is a special ring given to her by her mother that is suggested to have Mana powers which can activate her Para-mail called the "Villkiss", which was originally used by Jill during her days as a mail-rider, with or without a pilot and even from a distance. Momoka, her ever loyal maid, later on follows her to the island by stowing away in a transport ship where she continues being Ange's maid becomes her roommate. Ange comes to realize the true nature of the Mana society upon facing discrimination and hanging by Julio and the people she once cared about, and Ange chastises her old self who thought there ever was peace in the world. She finds the Norma are the ones who understand real friendship and bonds.
She has a relationship and has admitted that she is in love with Tusk. During the preparation for the final assault Hilda reveals her feelings to Ange and calls Ange her "prince" but is concerned because Ange has "a princess for a friend and a man", and expresses concern over the fact that her feelings are weird since they're both girls, but Ange relieves her of those fears by kissing Hilda and telling her that she'll need her in the new world. Together they wish to protect the world and will do anything to destroy the puppetmaster pulling the strings behind the scenes.
This page was last edited on January 18th, 2023.