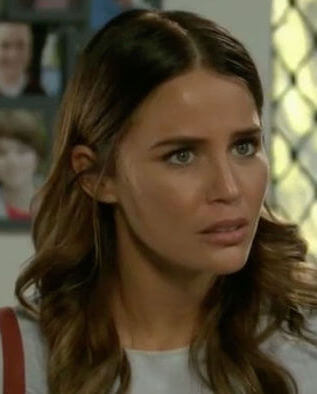 ---
Eleanor Leanna Rose Conway (aka Elly) had a very unstable upbringing – she never knew her father and her mother was always neglecting her, so she became very rebellious and also quite estranged from her family. Thus, it was a complete shock when Elly's mother, Liz, turned up in Erinsborough, having not seen her sister, Susan in years and explained that Elly had been expelled from boarding school for smoking pot.
During adult Elly's time on Ramsay Street, she had as complex a life as any other soap denizen, including…
being pursued by evil ex-boyfriend Finn
throwing said boyfriend off a cliff in self-defence
having sex with Chloe, the smitten sister of her fiancé (Mark), just days before the wedding.
got pregnant with Finn's brother, Shaun, after a drunken one night stand
had a long drawn-out cover-up of the child's paternity
explored her attraction to Chloe by dating her (whilst still pregnant)
gave birth to baby Aster on Christmas Day, in the company of ex, Finn, and an escaped prisoner
terrorised by Finn during his fatal rampage at Chloe's then-husband's island retreat
sent to prison on wrongful conviction of Finn's murder
set free after Finn's mother was exposed on bribery of the judge in an attempt to claim sole custody of baby Aster
moved to Switzerland to raise Aster with Shaun
returned to Erinsborough to proclaim she was finally comfortable identifying as queer, and to confess her love for Chloe and propose that they give their relationship another go in Sydney
This page was last edited on October 3rd, 2022.