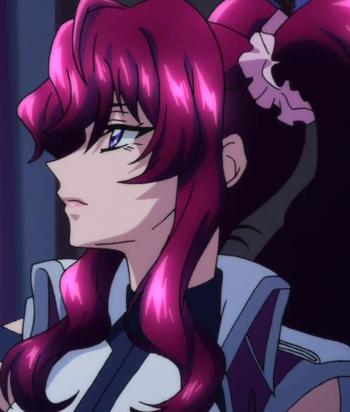 ---
AKA Hildegard Schlievogt, not to be confused with her little sister of the same name.
She is a veteran mail-rider of the First Unit, she has long red hair tied with twin tails and she was the late Capt. Zola's lover. After Zola is killed and Salia taking over the command of the First Unit, she becomes the second-in-command. Because Ange is directly responsible for Zola's death, Hilda's resentment towards her causes her to sabotage her Para-mail in retaliation. According to Ersha, Hilda's personality was similar to Ange's when the she was still new to Arzenal. Even after Zola's death, she still longs for her sexual prowess that she now turns to Rosalie and Chris to satisfy her sexual desires.
Years before the events of the series, she resents being in Arzenal and that she always desires to escape from the island to order to see her mother again who lives in the Enderant Union. An opportunity came during the "Festa Festival" where she aids Ange's escape by hijacking Misty's transport. Though Ange intends to leave her behind as revenge for her bullying, she has a change of heart after learning her reason for helping her escape. Upon returning home, Hilda realizes that her mother had almost completely forgotten about her and has a new daughter who is also named Hilda as the memory of her eldest daughter has devastated her. Hilda leaves at her mother's request and when she and Ange return to Arzenal, they decide to swear to destroy the twisted world they live in. Eventually, she replaces Salia as commander of the First Unit.
Hilda went through some serious soul searching after Ange was sent to the other Earth and when Ange was captured by Salia realized how much she cares for Ange. She later becomes the commander of the Aurora in Jill's place when she is stripped of her command, but turns it over to Ange when she returns to begin the final invasion. During the preparation for the final assault Hilda reveals her feelings to Ange and calls Ange her "prince" who kisses and telling her that she'll need her in the new world.
This page was last edited on August 30th, 2019.