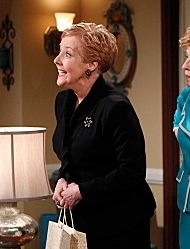 ---
Lyndsey McElroy's mother and grandmother of Eldridge McElroy.
Jean acts sweetly, but voices considerable disappointment in the deplorable actions and behavior of her daughter and grandson in a similar manner to Alan's own mother, Evelyn. So they experiment this by introducing Evelyn to her mother. At first, the mothers don't like each other, but they bond and go out after Alan and Lyndsey head home from dinner. In the morning, Alan and Lyndsey are shocked to find their mothers sleeping together.
This page was last edited on November 13th, 2020.