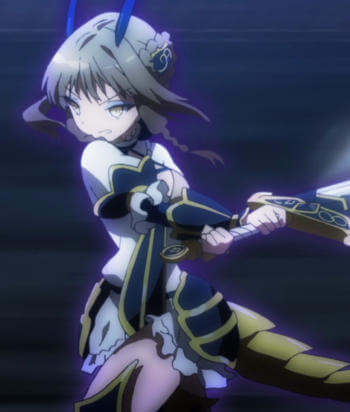 ---
A 2nd year Junior High School boy named Souta Kishibe, La Pucelle is mostly known as the Dragon Knight, thanks to having a dragon tail, and generally having a dragon motif as an outfit. Reunited with Snow White as her longtime childhood friend, La Pucelle has pledged to protect and guard Snow White during the duration of the elimination contest. Due to how Magical Girl transformations work, Souta is physically transformed into a female when he becomes La Pucelle.
La Pucelle's ability is to alter the mass and size of his sword. Not only can it become a BFS, it can also become microscopic as well.
This page was last edited on January 19th, 2023.