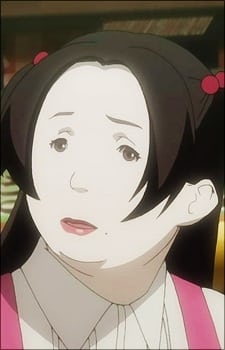 ---
Miiko seems to tend to cry a lot and tends to be picked on by other members of the group. Pre-transition, she was a sumo wrestler.
After winning the Atlas Lottery, she is entrusted by Momoko to reopen the Tropical Fish in Atlas, however she is sent to serve Mikuni in the Moon Palace. Two-thirds through the anime storyline, Miiko is forcibly turned into Hiruko's newest vessel, but she is able to fight the lord's personality and temporarily gain dominance over his body. Sayoko takes him and Mikuni away from Atlas.
She sacrifices himself and Hiruko to save Sayoko and Mikuni by shielding them during the bombing of Neo Akihabara. At the end, she reappears in front of Sayoko and Mikuni to bid Mikuni a final farewell and to cure her of her disease and ability. She also asks Sayoko to take care of Mikuni like a real mother before disappearing with the souls of the other children who are sacrificed to protect Atlas.
This page was last edited on December 25th, 2020.