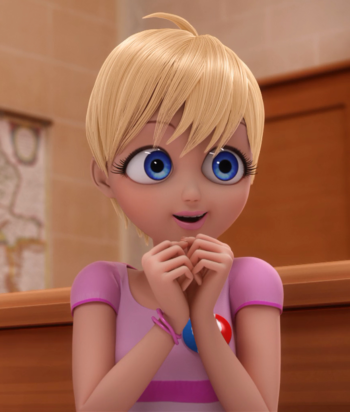 ---
Rose is a sweet, cheerful, and naive teenage girl. With an optimistic and happy attitude, Rose cares for everyone around her, often showing much gratitude, and she likes helping them.
As Pigella, she retains her normal personality, remaining the cheerful and happy girl she is, something that helps her when it comes to using her power.
As Princess Fragrance, Rose is obsessed with Prince Ali and will stop at nothing to accomplish her goal to make him hers. She expects people to treat her like royalty, and is particularly enraged by people who take Prince Ali away from her or will not follow her. She also likes to sing and makes everyone under her control sing.
When akumatized a second time as Princess Fragrance, she, along with Lady Wifi and Reflekta, wanted revenge on Adrien for sending an ungrateful message. However, after learning it was his cousin Félix, the Punisher Trio aim their anger at him for making Adrien look like a monster. She will also "punish" anyone who gets in their way, such as hypnotizing Kim and Max.
When akumatized a third time as Princess Fragrance, she, along with Lady Wifi, Reflekta, Timebreaker, and Horrificator, want to expose Marinette's secrets in hopes of saving her and to be friends again by forcing her to give them up by hypnotizing her with her perfume. She and the Gang of Secrets have no qualms putting bystanders in danger to find Marinette, such as hypnotizing them to find Marinette. Her desire to persevere their friendship is so intense that she, Reflekta, Horrificator, and Timebreaker chase after an illusion of Marinette instead of taking Cat Noir's ring.
This page was last edited on March 28th, 2023.