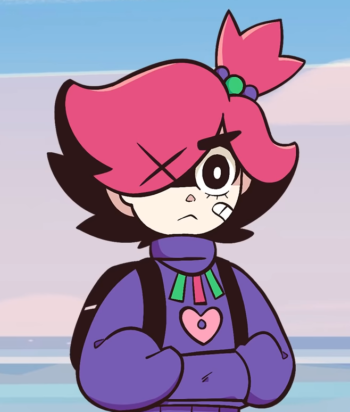 ---
Bellatrix "Trixie" Roughhouse is one of Molly's two best friends, along with Phoenica.
Not much is known about Trixie's personality. However, it's stated that they struggle in school, but has extensive knowledge in street smarts. They appear to have a rough and tumble personality.
When threatened, Trixie likes to act in ways that intimidate the enemy, such as pulling out a box cutter (even though they aren't not going to use it).
Despite her tough exterior, Trixie has a kind heart. They rescue worms off the sidewalk every time they see one.
Trixie was confirmed as being non-binary on Twitter, and use both she/her and they/them pronouns. Trixie also is likely pansexual.
This page was last edited on February 24th, 2023.