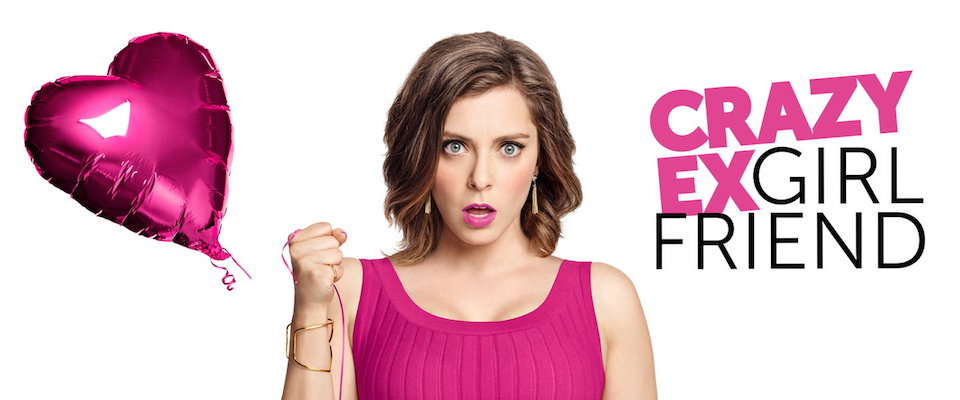 Overview
Rebecca Bunch is a Yale- and Harvard-educated lawyer, who works for a top New York firm. She freaks out when offered a partnership and bumps into Josh Chan on the street. Josh was her first love from summer camp in 2005 and she never got over the way he dumped her at the end of camp. Josh tells her he could not hack it in New York and is moving back to West Covina, California ("Just two hours from the beach, four hours in traffic").
While watching a butter spread commercial, Rebecca decides to follow Josh in search of happiness. She hops a plane to L.A., gets a job at Darryl Whitefeather's West Covina law firm, buys a house, and flushes all her depression and anxiety meds down the sink. She becomes friends with the firm's paralegal, Paula, and begins an on-again-off-again relationship with Josh's friend Greg, while trying to reconnect with Josh.
Notable Queer-Centric Episodes
Season 2, Episode 6 "Who Needs Josh When You Have a Girl Group?" - Maya is bisexual.
Season 3, Episode 11 "Nathaniel and I Are Just Friends!" - Valencia has a girlfriend.
Season 3, Episode 12 " rent?!" - Valencia and Beth work together at party planning.
Season 3, Episode 13 "Nathaniel is Irrelevant." - Valencia invites Beth to the hospital where Heather is about to give birth.
Season 4, Episode 11 "I'm Almost Over You." - Nathaniel has an elaborate rom-com day-dream that includes Maya trying to win back her ex-girlfriend Joanne.
Season 4, Episode 14 "I'm Finding My Bliss." - Valencia joins the town muscial in an attempt to get Beth to propose.
Season 4, Episode 15 "I Need to Find my Frenemy." - Valencia has an ultimatum for Beth who's not having it. By the end of the episode, Valencia has a revelation.
Season 4, Episode 17 "I'm in Love." - Valencia finally proposes to Beth.
Characters
There are 4 queer characters listed for this show; none are dead.
Regulars (2)
Recurring (1)
Guest (1)
This page was last edited on March 15th, 2022.