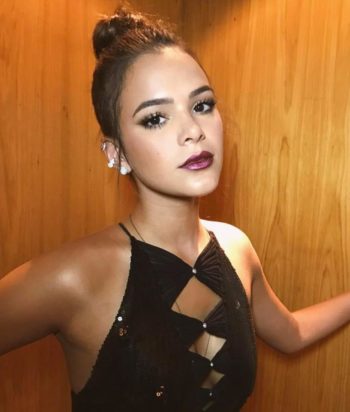 Biography
Bruna Reis Maia best known as Bruna Marquezine, is a Brazilian actress and model. Marquezine was born in Duque de Caxias, Rio de Janeiro. Her birth name is Bruna Reis Maia, having adopted the surname Marquezine as a tribute to her grandmother.
She began her career at young age, performing in commercials and videos with the presenter Xuxa. In 1999, she made her first appearance in a program: Gente Inocente at the time, presented by Márcio Garcia. In soap operas, her debut came when the director Cininha de Paula saw her in a video in which Bruna made an appearance in Xuxa Só Para Baixinhos later being invited to make a telenovela in prime time. Her debut came in 2003 in the soap opera Mulheres Apaixonadas of Manoel Carlos, where she became known nationally when interpreting Salette. In the same year, in the film Xuxa Abracadabra played the character Júlia. Joined the cast of telenovelas: América in 2005, playing a blind character Maria Flor; Cobras & Lagartos in 2006, portraying the character Lurdinha; Desejo Proibido in 2007, portraying the character Maria Augusta; and Negócio da China in 2008, portraying the character Flor de Lys. In 2010, participated in the novel Araguaia (telenovela) as professor Teresinha.
In 2011, she participated in Aquele Beijo playing a major role, Miss Belezinha. Played the character Lurdinha in the plot of prime time Salve Jorge in 2012. In 2013, she was tipped to star Além do Horizonte. In 2014, was invited by the author Manoel Carlos to live the traditional character Helena, in the second phase of the novel Em Família. In the third (and main) stage of the novel, plays Lois, daughter of the protagonist Helena (now played by Júlia Lemmertz)that is aired by the Globo Television in prime time. She played Roseli in Breaking Through directed by John Swetnam and produced by Uri Singer.
Overview
Born: August 4, 1995
Age: 28 years old
---
Characters
There is 1 character listed for this actor; 1 is dead.
Character Statistics
Roles
Your browser cannot display this piechart for stats on actors.
Status
Your browser cannot display this piechart for stats on actors.
Note: Character roles may exceed the number of characters played, if the character was on multiple TV shows.
This page was last edited on February 4th, 2018.