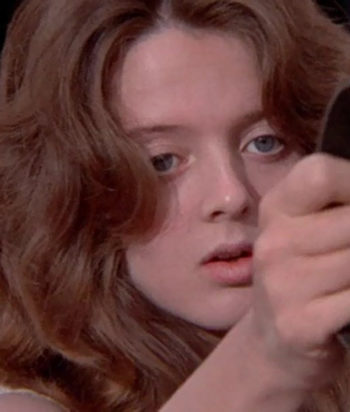 Actor Bio
Janit Baldwin had a fleeting, but still memorable and impressive ten year career as an actress. Born in 1955 and raised by her actress mother Dona Baldwin in Kansas City, the diminutive blue-eyed and auburn-haired Janit made her film debut at age 17 in Michael Ritchie's "Prime Cut" (1972). Among her most notable movie parts are Claudia Jennings' sweet younger sister in the exciting redneck drive-in exploitation classic "'Gatorbait" (1973), a groupie in Brian De Palma's delightfully delirious horror rock satire "The Phantom of the Paradise" (1974), a hardened juvenile delinquent in the shocking made-for-TV teenage girls-in-prison feature "Born Innocent" (1974), and Piper Laurie's mute daughter who becomes possessed by the vengeful spirit of a vicious gangster in Curtis Harrington's immensely enjoyable horror outing "Ruby" (1977).
Moreover, Ms. Baldwin made guest appearances on the television programs "Baretta," "Gunsmoke," "Hawaii Five-O," "The Waltons," and "Emergency!". Besides her TV and film credits, Janit also acted in stage plays and television commercials. Following her winning portrayal of a spunky young lady in the strictly so-so slasher item "Humongous" (1982), Janit Baldwin quit acting and has since gone on to have a successful career as a fashion designer.
Actor Information
Born: July 24, 1953
Age: 69 years old
---
Characters
There is 1 character listed for this actor; none are dead.
This page was last edited on September 11th, 2018.