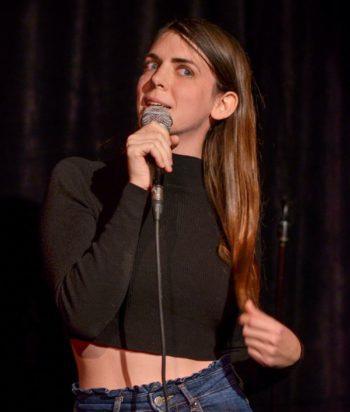 Actor Bio
A writer, director, producer, comedian and musician from North Carolina—currently based in New York.
The odds are, you know Kelly from that one time a show producer thought it would be a cool idea to invite an alleged serial rapist to watch Kelly perform stand- up comedy. Someone taped Kelly's set that night and shared it, so she talked to CNN about it, and wrote something for The New York Times, Glamour and The Guardian too.
As a writer-director, Kelly's various sketches and shorts have played comedy festivals including Sketchfest and have been featured in publications such as Huffington Post. Kelly also writes and produces a live-streamed, sketch variety web series, Sofa Kingdom (hour long episodes of dumb fun available on Facebook live now). Kelly's debut short film, BOOBS, premiered at LA Shorts International Film Festival in 2017. If you enjoy her coming of age comedy, ask about the feature script—or any number of other feature and pilot scripts she has ready for you to read!
As a comedy producer, Kelly was interviewed by Elle Magazine to discuss her latest live production, Rape Jokes by Survivors, which was recently featured at New York Comedy Festival. Kelly performs stand-up comedy around New York City, and also co-hosts Stoked Comedy the first Thursday of every month at Mad Tropical in Brooklyn.
Additionally, Kelly is a founder of two film organizations, "Women Independent Producers", a network of women producers, and "Curve Filmmakers," a collective of budding filmmakers. Kelly starts so many film collectives, No Film School asked her to write about it.
When Kelly is not making independent films or producing and performing comedy, she is usually supporting other filmmakers. Kelly has been working in New York as a freelance film producer, production coordinator, editor, researcher and marketing coordinator for five years.
Oh, and Kelly now also moonlights as singer-songwriter and guitarist in a band called Boys Drool! They perform around New York.
Characters
There is 1 character listed for this actor; none are dead.
This page was last edited on January 9th, 2020.