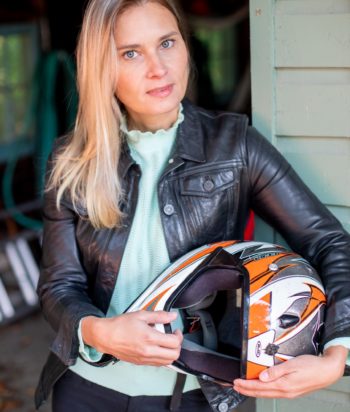 Actor Bio
Actor and director, Kristina Klebe was born in New York City in 1985 and raised between NY, Germany, France and Italy. She is the only daughter of two European immigrants making her first generation American. She speaks four languages fluently, though she didn't speak a single word until she was two. Her half German, half Sicilian, honorary French mother was officially knighted in 2015 into the National Order of the Legion of Honour, the highest French order for military and civil merits, for her 20+ years of exceptional charity work helping French and American children. Her father is an Emmy award nominated documentary producer.
Kristina attended an all girls Catholic high school in NYC and split most of her teenage years between playing the piano, horseback riding and taking after school acting classes. She also used to read for the blind. She was accepted early and graduated from Dartmouth College cum laude with a major in Politics and a minor in Theater/Film. She continued her theater studies at the Eugene O'Neill National Theater Institute and recently attended the Grad Film Program at NYU Tisch to get her masters in directing.
Although Kristina's acting career started with her first and still greatest love, the theater (she performed on numerous Off-Broadway stages in NYC, including the prestigious Public Theater, Soho Rep and MTC), she is most known for her performance as the sassy, foul-mouthed Lynda in Rob Zombie's 2007 remake of Halloween, which has cemented her as an icon in the horror genre and garnered her a large fan base. In 2013, Kristina received much praise for her depiction of the tough-as-nails psychopath Anika in Zack Parker's TIFF hit Proxy. In December 2015, The New York Times chose her film Dementia, which she also cast, as New York Times Critics Pic of the Week and her performance in the lead role of Michelle was likened to Kathy Bates in Misery. In January 2016, Kristina was nominated as best German actress at the prestigious Jupiter Awards for her performance in Oscar winner Jochen Alexander Freydank's Kafka adaptation Der Bau, starring across from German superstar Axel Prahl.
Kristina has managed to work as both a character actor and leading lady in over 50 productions of film and television in both the US and Europe. She has appeared across genres and platforms in horror movies, thrillers, musicals, comedies and numerous procedural dramas, working with the likes of Spike Lee, Kevin Hart, Neil Marshall, Tom DiCillo, Griffin Dunne and Darren Lynn Bousman. She often works with the same directors twice (Milan Todorovic, Mike Mendez, Rob Zombie, Adam Green and Marcos Siega) and has graced the cover of MAXIM (caveat: in Serbia).
Kristina's most recent trend is playing kick-ass detectives. Neil Marshall (Constantine, Game of Thrones, Doomsday) first cast her as Detective McNally in his episode of Tales of Halloween (2015 Certified Fresh on Rotten Tomatoes) "Bad Seed." She then played Detective Pierce across from 80s action star Dolph Lundgren in the Mike Mendez helmed Don't Kill It (to be released 2016/2017), and just wrapped the lead detective role, Detective Martin, in Kevin Shulman's Marvista Studios produced amnesia thriller.
As a director, Kristina has produced and been the videographer on shoots in Hawaii, Haiti and Nicaragua as well as NY and LA. She has shot over a dozen open heart surgeries for organizations such as Doctors without Borders, Surgeons of Hope and Open Heart Haiti. Kristina's directorial debut short film "As Human As Animal" starring Diamond Dallas Page played in competition at Sitges and was bought by FEARnet. She produced and directed an ad campaign for the vape company Henley and most recently directed a female MMA fight on the phantom camera – part of which was shot as VR and showcased at Sundance 2016 as the first ever 1000fps VR piece.
On the side, she has been working with a charity called French-American Aid for Children for over 10 years while also acting as a volunteer and foster parent at Best Friends Animal Society and Much Love Animal Rescue. She was a competitive equestrian for over a decade, including doing three day eventing, and is a certified rescue diver.
Characters
There is 1 character listed for this actor; none are dead.
This page was last edited on June 6th, 2021.