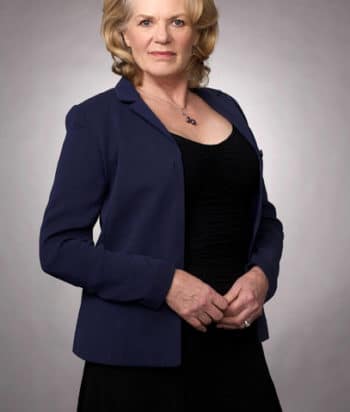 Actor Bio
Libby Villari was born a Tarhill and a hick in Winston-Salem, N.C. and credits the beauty and magic of rural North Carolina for her love of, and reverence for Nature. Her roots still inform who she is today.
At age 11 she moved to Sunland-Tujunga on the outskirts of Los Angeles. She embraced Southern California as her new home, graduated from Verdugo Hills High School, married, gave birth to her son, and embraced all things alternative and natural, including political activism. She became part of the "back to the land" movement of the 60's when she and her first husband moved to Fort Worth, Texas, settling down in the boonies outside the Dallas-Fort Worth metropolis. The idea was to own & tend land and nurture a communal way of life. Some of that worked out, and there are some great stories from that time in her life.
Before returning to school at age 27, a show biz career had never entered her mind. A college scholarship in Speech lead to her B.A. in Theater from North Texas University, & upon graduation at age 30 she started her acting career. Acclaimed stage performances landed her an agent, she spent time honing her craft with the legendary Hip Pocket Theater and traveled with them to the Edinburgh, Scotland Theater Festival, she did several theater tours across the South, and in the early 90's her screen career began to take off.
She's managed to cobble together a stellar career while living on a secluded North Texas Lake, far away from the limelight, with her husband of 30 years, Matt Barnes. She's worked with many acclaimed directors including Richard Linklater, Peter Berg, Robert Altman, Alan Parker, Clint Eastwood, Lasse Halstrom, Robert Rodriguez, Kimberly Pierce and James Marsh.
People in the business describe Libby as earthy, authentic, sassy, irreverent, funny, and passionate about the civil liberties of ALL people and protecting the environment. She splits her time between her Texas lake home, Los Angeles, and The Smokie Mountains in North Carolina where some of her family still resides.
Actor Information
Born: November 17, 1951
Age: 71 years old
---
Characters
There is 1 character listed for this actor; none are dead.
This page was last edited on July 27th, 2019.