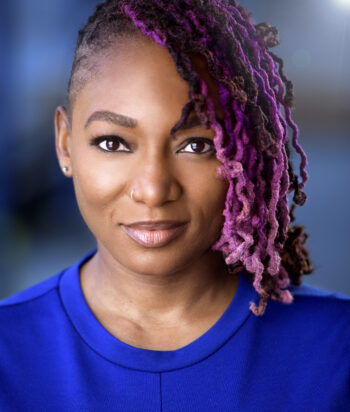 Biography
Okema T. Moore is an actress, producer, writer and director. Starting as a child actor on Sesame Street, she has cultivated quite a life of experiences since then. From being an EMMY nominated producer, to premiering at Tribeca N.O.W.
Starting as an actor/singer, she found the roles for Black women stereotypical and monolithic and vowed to figure out ways to change that by both writing and producing…having no real clue how! In 2015 she left her cushy finance job at 36 to start all over, working her a** off to become an Emmy Nominated, PGA producer and now director, who has created content for OWN, Netflix, FOX, BET, TLC and more. From writing, producing and directing branded work, to indie shorts, to digital projects, to regional TV; Okema puts her whole self into every nook and cranny of the work. She is committed to proving that good stories come from all corners of life and that they deserve to be told by the most unlikely people! As development and directing beckon to her more and more, she works to bring the ideas of these unlikely people to the masses.
Character Statistics
Roles
Your browser cannot display this piechart for stats on actors.
Status
Your browser cannot display this piechart for stats on actors.
Note: Character roles may exceed the number of characters played, if the character was on multiple TV shows.
This page was last edited on February 26th, 2023.