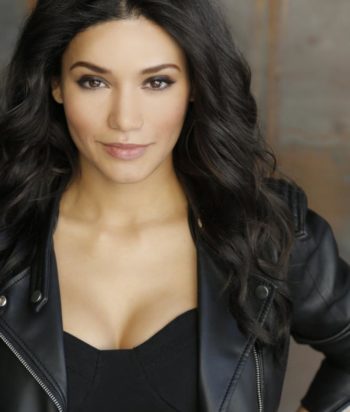 Biography
An actress and writer.
Sabrina Texidor is a walking juxtaposition, having grown up a Connecticut prep school girl by day and a telenovela-watching-señorita by night. This bilingual beauty can recite Shakespeare and Marc Anthony lyrics all in the same breath!
Raised by a brilliant and passionate Colombian mother who taught her anything is attainable with hard work and vision, Sabrina received a full scholarship to the prestigious Connecticut prep school, Kingwood-Oxford, where she had the opportunity to travel to Paraguay to help build schools and serve as a translator for the doctors. It was in the classroom where Sabrina nurtured her inquisitive nature, found her voice and learned how to navigate through seemingly different worlds while still maintaining her sassy sense of self — a skill that would serve her for the rest of her life. A Latina with back-bone, brains and beauty made Sabrina a force to be reckoned with both in the classroom and on stage. Her charisma and voracious appetite for performance landed her print campaigns (The Limited Too, Polaroid and Tommy Hilfiger), the lead in the Hartford Children's Theater's production of West Side Story and a host role in a multi-video project for Mozzarella Productions.
Upon graduating college with a major in Communications and Media Studies and a minor in Philosophy, Sabrina trained vehemently in acting, voice and movement. She auditioned for the Broadway Musical revival of Rent and got 5 callbacks for the lead role of Mimi – not too shabby for her first professional audition! She then trained tenaciously for film and television and set her sights out west. Within a matter of 2 weeks, Sabrina packed her belongings, learned how to drive and ventured off to Los Angeles, leaving behind the comforts of her home, Abuela's cooking and the most important people in her world – her parents.
Sabrina's move to LA has since proved a success. She has booked commercials for companies such as Voss Water and Hershey's, and has developed lasting relationships with casting directors and industry execs — all thanks to her unique ability to leave a positive impression on anyone and everyone who crosses her path.
Sabrina continues to sharpen her skills at Ivana Chubbuck's Studio in the advanced scene study class, UCB improv and with the hosting queen herself, Marki Costello. This Colombian / Puerto Rican-American / Buddhist (hey – we told ya she's a walking juxtaposition!) is determined to tell inspiring and thought-provoking stories, and as her proud papa would say, "and she will win… because she is Puerto Rican and we are champions!"
Keep your eye on this philosophical firecracker because her journey is a thrilling one – and yes, Pedro, you are right..she will win!
Character Statistics
Roles
Your browser cannot display this piechart for stats on actors.
Status
Your browser cannot display this piechart for stats on actors.
Note: Character roles may exceed the number of characters played, if the character was on multiple TV shows.
Characters
There is 1 character listed for this actor; none are dead.
This page was last edited on August 3rd, 2019.