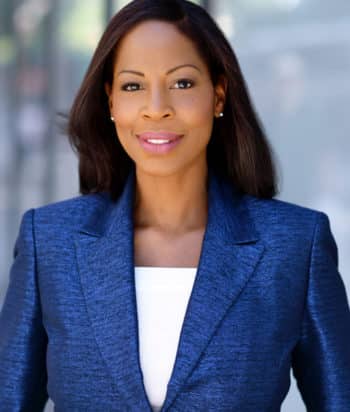 Biography
Born in Biloxi, Mississippi but raised in Chicago, Illinois, Tanesha sang as a child in the church choir and was blessed with a rare opportunity to sing with Gospel legend Mahalia Jackson.
Tanesha dreamed of being a performer as early as the first grade. She pursued those dreams and honed her talent while attending Western Illinois University majoring in Theatre and Mass Communications. At Western Illinois, she met and befriended versatile character actor Michael Boatman. They remain fond acquaintances to this day. After graduation her journey soon brought her to New York City.
While rooming with a townhouse full of other aspiring artists in Brooklyn and waiting tables in roller skates at Ed Debevics, casting agent Todd Thaler gave Tanesha her first big break that would earn her a SAG card. She was cast a "Singing Nurse" in "Mr. Wonderful" starring Matt Dillon and Annabella Sciorra, directed by Anthony Minghella.
Tanesha has always been concerned with inspiring our youth and giving back. She joined the "City Kids" project in the 1990's and worked with the organization along side fellow alumni and actors: Malik Yoba, Lisa Nicole Carson and Donald Faison among others.
Acting and singing have always gone hand in hand with Tanesha. She focused her energy on singing and found herself in an R&B Pop girl group signed by Capital Records named "The Earth Gyrlz". The album was entitled "Fully Equipped" and the 1st single was titled "Love of Mine". Unfortunately the Capital Records relationship was short lived but not before the group was flown the L.A. to perform on "Soul Train" with Don Cornelius.
The life of a performer is truly like a roller-coaster with it's ups and downs. When one door closes another door opens. After her Capital Records experience, Musical Theatre afforded Tanesha an opportunity to leave the country. Tap Dancer, Choreographer, Director Maurice Hines was developing a traveling show for Europe. The musical revue was loosely based on "Alice in Wonderland" and was entitled "Yo, Alice!" Tanesha was cast in the production and featured as a "Fluff Girl". The show ran in Amsterdam at "Show Biz City" for an entire year.
Upon returning to New York,Tanesha was blessed to find work acting and singing. She landed an assortment of national and regional commercial spots for Mr. Clean, TD Bank, Lending Tree and was a singing angel for Philly Cream Cheese along side future "Pussy Cat Doll", Carmit Bachar.
Tanesha was cast in a Spike Lee Joint in 2000. She is almost unrecognizable in black face for the controversial film "Bamboozled" starring Damon Wayans, Savion Glover, Jada Pinkett Smith and Tommy Davidson.
Musical theatre has been a main stay through the years for Tanesha and she has been in numerous productions Off-Broadway and Regionally. Her first Broadway show came in 2004 when she was cast in Tony Kushner's Tony nominated new musical "Caroline or Change" directed by George C. Wolf.
Recently Tanesha has been blessed to be involved in the development of two new musicals: "This One Girl's Story", by Bil Wright directed by Devanand Janki and "The Last Word", written by Kevin Ray, Josh Sohn and Suellen Vance.
Tanesha's most recent featured film role can be found in the Award winning independent short "The Cycle" inspired by a true story, produced and directed by Roy Clovis Jr. for Mundo Loco Films. It toured the Film Festival circuit and was broadcast on HBO during Black History Month in 2011.
To give back,Tanesha has donated her time and continues to be a part of the non profit organization and Grammy nominated "Broadway Inspirational Voices", directed and founded in 1999 by Michael McElroy. It's a star studded assortment of former and current Broadway performers as varied as: Phylicia Rachad, Montego Glover and Adriane Lenox.
Overview
Born: December 30, 1962
Age: 60 years old
---
Character Statistics
Roles
Your browser cannot display this piechart for stats on actors.
Status
Your browser cannot display this piechart for stats on actors.
Note: Character roles may exceed the number of characters played, if the character was on multiple TV shows.
Characters
There is 1 character listed for this actor; none are dead.
This page was last edited on June 10th, 2021.