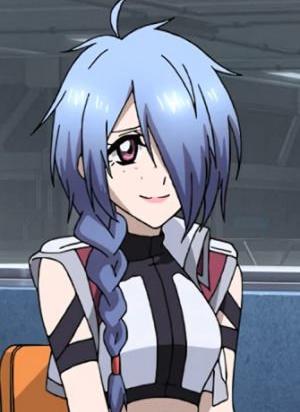 ---
An older mail-rider with silver hair tied with a braid. She is usually shy and introverted, so she's always with Hilda and Rosalie where they engage in a lesbian ménage à trois. She, too, initially despised Ange who was responsible for Zola's death early in the series but eventually accepted and befriended her along with Rosalie after Ange saved the entire unit from being killed by a new powerful DRAGON. Upon learning that Hilda was simply using her, Rosalie, and Zola as a means of achieving her goals, Chris becomes increasingly resentful towards her. They later make amends when Julio and his army invade Arzenal. She is shot during the battle and nearly dies until Embryo appears and heals her using Mana.
Another of Embryo's Diamond Rose Knights. After healing her, she was told she was abandoned (not realizing that Hilda and Rosalie were looking for her after Ange engaged Julio's fleet.) Feeling abandoned she accepts Embryo's offer of companionship and friendship. After being abandoned again, Chris angrily drives to destroy everything, until Rosalie risks her life to regain Chris' spirit, who loves her.
This page was last edited on January 19th, 2023.