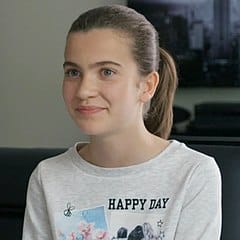 ---
Seven-month-old Izzie was discovered in the reception of The Mill by Julia Parsons, after being abandoned by her mother Lisa. Julia discovers a note from Lisa that reveals Daniel Granger is her father. Daniel refuses to believe Izzie is his child, but later accepts it and takes care of her until he finds, and reconnects with, Lisa. After Izzie is kidnapped briefly at a funfair, Lisa moves to Nottingham.
Years later, Izzie returns to Letherbridge after an argument with Lisa, and claims that she wants to move in with Daniel. Things escalate quickly (and badly).
While staying with Daniel during half term, she sees netting hung across a tree in a car park, and researches its purpose. When she discovers that they were hung in order to prevent birds from roosting there, she plans to cut them down with Daniel and Valerie Pitman. While there, the police arrive, and Valerie takes Izzie home while the police take Daniel into the station for questioning. Izzie worries that their actions have been caught on CCTV, but the owner of the car park declines on pressing charges.
This page was last edited on October 9th, 2022.