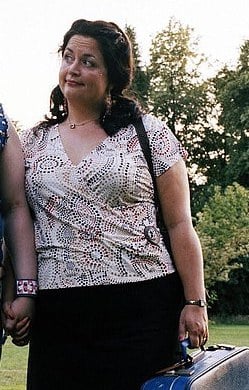 ---
The barmaid of a local pub (called 'The Scarecrow and Mrs. King') and best friend to Daffyd Thomas, she often serves him Bacardi and Coke. She is very keen to help him find a gay partner, even going as far as to close her bar so he can have a gay night (which she promptly regrets because he orders all the gays who turn up to leave).
In later episodes, we learn that she is in a homosexual relationship and about to enter into a civil partnership with Rhiannon. In Little Britain Abroad, Myfanwy opens a gay bar on Mykonos in Greece, but it does not fare well because Daffyd does not hand out flyers to the locals. It is also revealed in Little Britain Abroad that she speaks almost perfect Greek. At the end of Series 3, she is seen walking with Daffyd to the train station and she cries when he tries to leave for London
This page was last edited on February 9th, 2021.