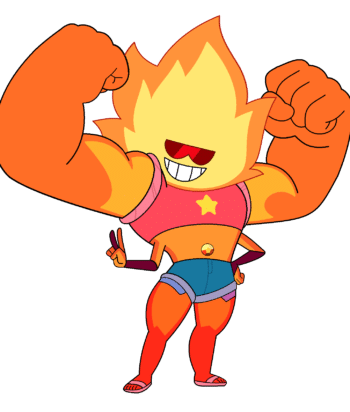 ---
The fusion of Garnet (and by extension Ruby and Sapphire) and Steven. They made their debut in the episode "Change Your Mind".
Sunstone displays a combination of Garnet's leadership, protective spirit, and effortless natural cool, mixed with Steven's sunny optimism and tendency for sentimentality, all of which combine into a being of earnest, almost cheesy positivity. In many ways, they resemble a 1980/90s after-school-special cartoon character; offering self-esteem-boosting platitudes and giving helpful advice to children. Overall, they have a hip, laid-back personality even in the heat of battle. Much like Sardonyx, they like to break the fourth wall, encouraging the kids at home not to fight when it can be avoided.
Sunstone uses they/them pronouns.
This page was last edited on December 29th, 2019.