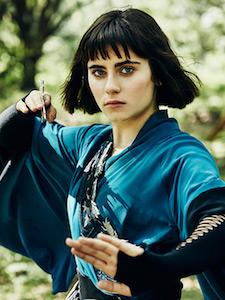 ---
16-year-old Tilda has flourished under the guidance of her Baron, The Widow, whom she initially calls Mother. A confident, self-reliant teenage assassin, brave and quick-witted, Tilda is profoundly grateful to The Widow, who saved her from abuse.
Though she has dedicated her life to her Baron, Tilda remains an independent thinker who will follow her own conscience. Her feelings for M.K. warred with her loyalty to The Widow, but she views her mother as a force for good in the Badlands.
When the Widow's compromises start to overshadow her own original vision, Tilda's faith in the cause will be irrevocably shaken. After an epic showdown with the Widow that left her bruised and battered, Tilda forges herself a newidentity: The Iron Rabbit. Alongside her lover, Odessa, Tilda plays Robin Hood for Lydia's refugees.
This page was last edited on November 29th, 2022.