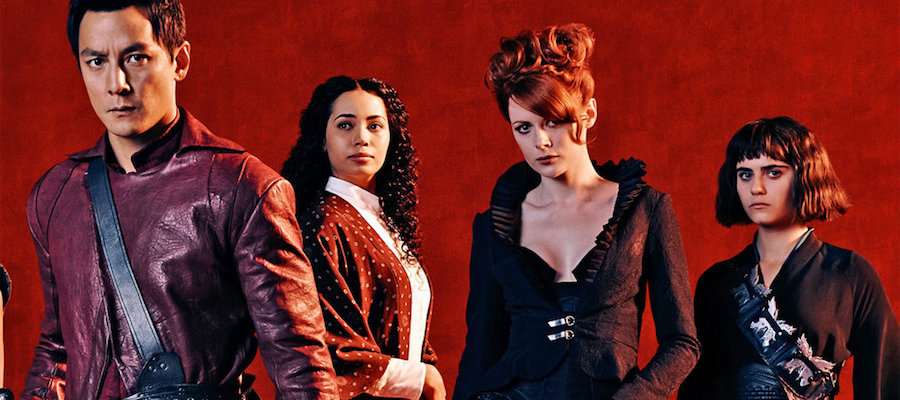 NOTICE: While generally acceptable for the over 14 crowd, there may be some sensitive topics now and then.
Overview
A compelling character drama with the highest caliber of martial arts filmmaking in an ongoing series.
Sunny is a ruthless, prodigiously skilled warrior, who mentors teenage boy M.K. during a spiritual journey across a feudal civilization known as the Badlands. With the help of trained assassins like Sunny, the area is ruled by rival barons, and for decades Quinn has consistently outflanked and outmaneuvered his fellow barons to keep the upper hand. His invincibility, however, begins to fade in light of brazen attacks by the newest baron, The Widow, who believes M.K. is the key to her success. As the battle for control of the Badlands heats up, the destinies of the stoic assassin and the impetuous teenager become intertwined.
Okay, I have to admit I thought it would suck. The first episode was heavy on men, and even my wife rolled her eyes. And then we get to how many women are actually in charge of things. Not at Quinn's, but there's the Widow and the Master and the various Baronesses who are clearly not cool with the patriarchy. In some rather violent ways. This becomes much more clear in seasons two and three.
It's a very Kung Fu action drama, and far exceeded my expectations.
Queer Plotline Timeline
While there are a lot of women in season one, we don't get much of it until season two. That said, the seasons are 6 episodes, so it's not a waste of time to watch.
Season three, Tilda and Odessa break up, and Odessa ends up with someone else. Tilda would rather Odessa be safe than with her, so … Yeah.
Notable Queer-Centric Episodes
Season 2, Episode 1 "Tiger Pushes Mountain" - Tilda and the Widow rescue dolls (sex workers), one of whom is Odessa.
Season 2, Episode 6 "Leopard Stalks in Snow" -  Tilda and Odessa talk. And kiss.
Season 2, Episode 10 "Wolf's Breath, Dragon Fire" -  After losing a fight with The Widow, Tilda is rescued by Odessa and they leave together.
This page was last edited on May 9th, 2019.