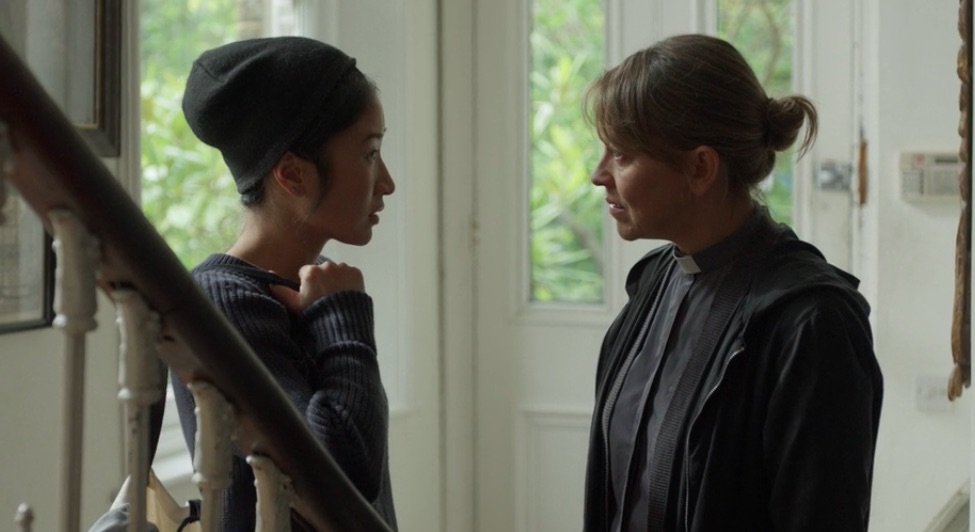 CAUTION: Designated as "strong content," subject matter regularly discusses and sometimes depicts violence and abuse. Viewer discretion is advised.
Overview
A four-part thriller set in London that takes place over four days.
When a pizza delivery driver is shot down in South London, Detective Inspector Kip Glaspie is left in charge of the investigation and refuses to accept the murder as just a random act of violence. As she investigates, she soon finds herself being drawn into the darker side of underworld London. At the same time, politician David Mars becomes embroiled in the events due to his rocky relationship with his unpredictable ex, Karen, and a vicar struggles to conceal her affair with the only witness to the shooting. Disparate worlds collide and become entangled as the investigation develops.
Queer Plotline Timeline
From the first episode we learn about the relationship between Jane and Linh. Their story is interwoven throughout the entire series.
Notable Queer-Centric Episodes
Season 1 Episode 1 "Episode 1.1" - Linh returns home after a nightclubbing. She needed some space from Jane who can be "so clingy." But to Jane, she is "the best thing" in her life. Oh and Linh also was witness to a murder. We also learn that there is an issue with Linh's immigration.
Season 1 Episode 2 "Episode 1.2" - Jane tries to convince Linh to go to the police.
Season 1 Episode 3 "Episode 1.3" - Jane takes Linh to the police station where they continue to be closeted. They have a quick kiss before the closeted Bishop shows up to lecture Jane about her relationship and the rules of the church to live in the closet.
Season 1 Episode 4 "Episode 1.3" - Jane decides that her own happiness is not worth the "life of the parish." In the end, she picks the church over Linh, without a fight.
Characters
There are 2 queer characters listed for this show; none are dead.
Regulars (2)
This page was last edited on March 13th, 2022.