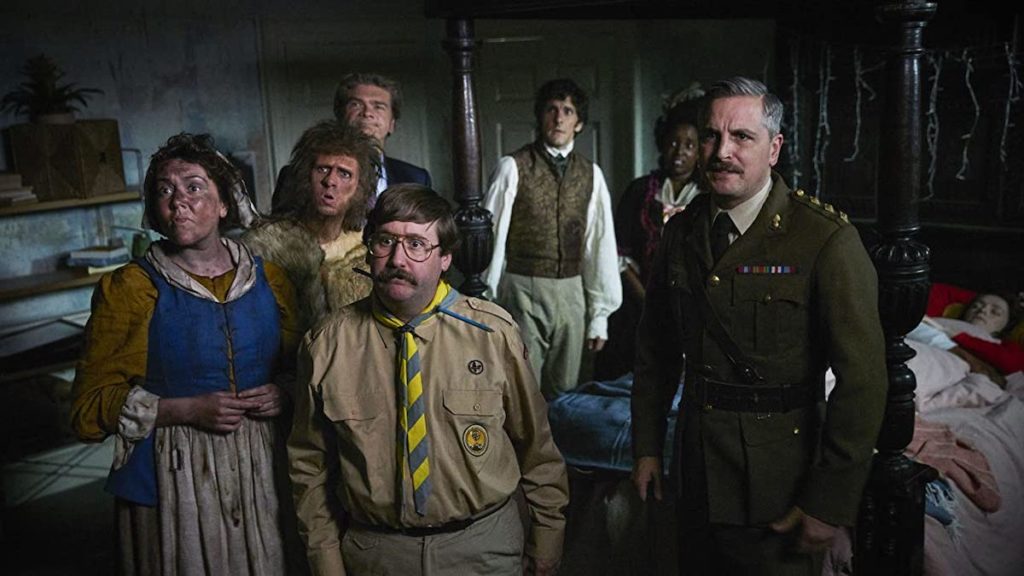 Overview
A young married couple, Alison and Mike, unexpectedly inherit the vast but crumbling Button House from a 99-year-old distant female relative of hers. The house is haunted by numerous squabbling ghosts from across the ages who died on its grounds, who are invisible and intangible to the living. Ignoring their solicitor's advice to sell the property, Alison and Mike decide to move in and renovate it, with the idea of turning the house into a luxury hotel. At first, the ghosts are not very happy with their plans and conspire to get rid of the newcomers. After various failed attempts to scare them, one of the ghosts pushes Alison from an upstairs window, resulting in Alison being clinically dead for three minutes. When she awakes two weeks later from an induced coma, she discovers her husband has arranged a huge mortgage, and that she can see the ghosts due to her moments of death.
Initially imagining the ghosts to be an after-effect of her accident, Alison eventually accepts the truth and confronts them. Because neither she (for financial reasons) nor the ghosts (who are stuck there for eternity) can leave, both sides eventually agree that they have no choice but to coexist as best they can. Meanwhile, the house requires a lot of work, and Alison and Mike devise several schemes to assist their perilous finances.
A series with the same name and premise was created in the United States in 2021.
Notable Queer-Centric Episodes
Season 2, Episode 6 "Perfect Day" - Two women are getting married at Button House, amidst a snowstorm. When one has second thoughts, the Ghosts are able to help.
This page was last edited on May 25th, 2023.