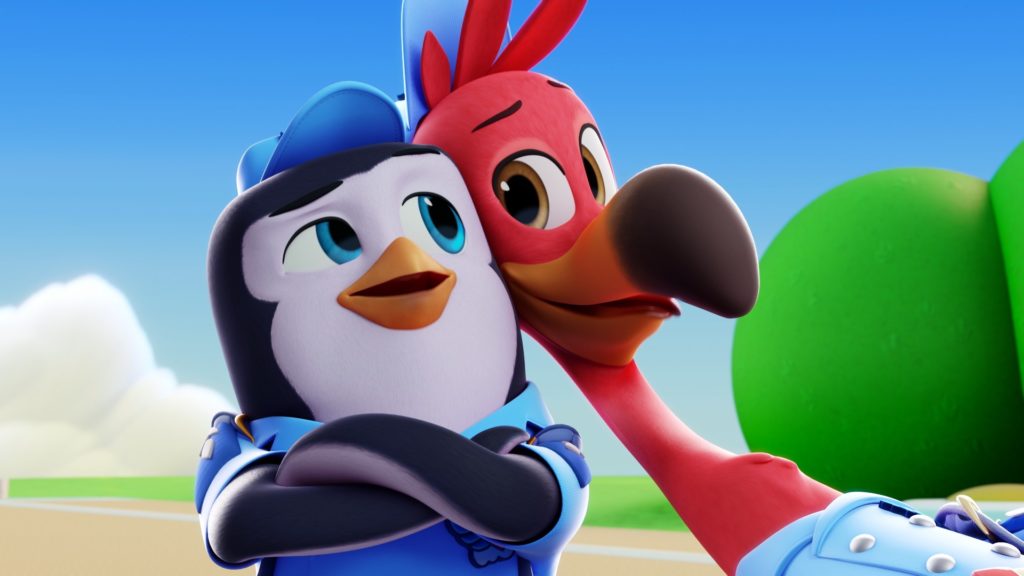 Overview
The hilarious adventures of best friends Pip and Freddy, a tenacious penguin and a kind-hearted flamingo, who are the only non-stork delivery birds in-training at Tiny Ones Transfer Service (T.O.T.S.). As new members of the esteemed team, these junior flyers must take tender care in transferring baby animals – kittens, cubs, calves, bunnies, puppies and joeys among them – from the nursery to their forever families around the globe.
Notable Queer-Centric Episodes
Episode 23a, "Night at the Nursery" - The Junior Fliers help Oki, an otter pup, who has trouble sleeping. Oki has two moms.
Episode 23b, "Seas the Day" - Pip and Freddy must make their first underwater delivery, transporting a baby dolphin. Freddy is better at flying than swimming, but Pip figures out how to help his friend—who then helps him later when they must wend their way through a puzzling maze. When they arrive at their destination, two mother dolphins are there to welcome their little one with kisses and love.
Characters
There are 2 queer characters listed for this show; none are dead.
Guests (2)
This page was last edited on December 22nd, 2020.