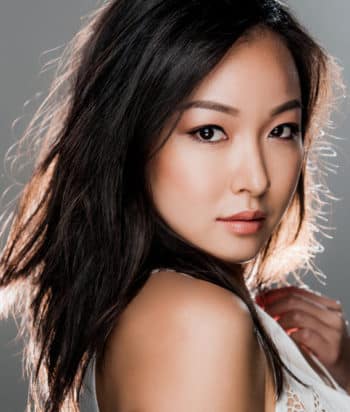 Biography
Charlet was born in Long Beach, California as Chihye Takahashi Chung. Her family moved ten times before the age of ten and finally settled down in Diamond Bar, CA where she now considers her hometown. As her name suggests, she is the daughter of a Japanese mother and a Korean father who were immigrants and both received a masters and doctorate degree in Applied Linguistics and Economics from UCLA and Claremont Graduate School. She is fluent and literate in both Japanese and Korean because of her upbringing as well as her over 25 visits to both countries combined. She received a BA in communications and a minor in East Asian studies from the University of California, San Diego with the hopes of having a career as a news anchor in broadcast television.
It was, however, Charlet's memory of first being discovered on an airplane at 5 years old by an agent who was trying to convince her mother to sign her along with her passion to perform and impersonate that motivated her to pursue a career in Hollywood. Upon graduating college, she was signed immediately by a manager and booked her first role on CBS's Cold Case within 3 months of being signed.
Since then, she has exhibited her wide range of work from playing the young teen arch-nemesis, Candy on Disney's Shake It Up, to eventually landing adult roles on shows such as Netflix's Grace and Frankie and ABC Family's Mystery Girls. Her most noted accomplishments include competing against 7,000 actors for a spot in the DISNEY/ABC television group talent showcase also known as the ABC diversity showcase where she was chosen and got to perform in front of 500 industry professionals at the El Portal Theater in Hollywood, California.
Currently, she has made her mark in the voiceover world, most notably for the character of Seraph, in Activision's Call of Duty: Black Ops 3 and as D.Va, a Korean pop-star in Blizzard Entertainment's Overwatch. Charlet recurs on Cartoon Network on Craig of the Creek and FOX's Family Guy and American Dad. She is also a series regular on Netflix's Fast & Furious and Carmen San Diego.
When Charlet is not filling her days with acting, she loves to spend time and give back to her community through her local church and various charities in between every opportunity to travel with her family. She pledges to dedicate herself to organizations that focus on bettering the lives of humans and animals. Charlet is also focused on fighting for equality for women and minorities in entertainment.
Character Statistics
Roles
Your browser cannot display this piechart for stats on actors.
Status
Your browser cannot display this piechart for stats on actors.
Note: Character roles may exceed the number of characters played, if the character was on multiple TV shows.
Characters
There is 1 character listed for this actor; none are dead.
This page was last edited on June 10th, 2021.