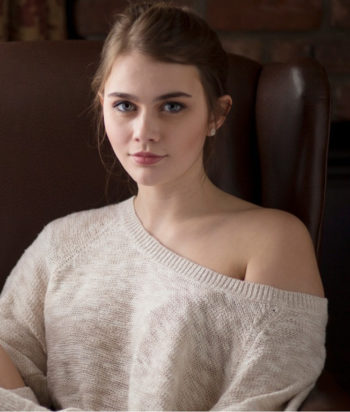 Biography
Charlotte Kennett was born and raised in the White Mountains of New Hampshire. She was involved in a lot of activities in high school such as drama club, DECA, volleyball, pole vaulting and snowboarding. In her free time she would make short films and write. She has always had a passion for bringing the truth to the surface. Ever since she was a little girl she watched Saturday Night Live. For a long time most of the material went over her head, but once she understood what SNL was really trying to do she decided she wanted to be apart of it. She liked the idea of making people laugh and pretty soon it became her main focus in life. She was always the odd one of the friend groups she was apart of, in ways that hurt her but she knew someday it would help her.
She applied to Columbia for the Comedy program and when she got in she realized her dreams weren't so far away. Within a year of being at Columbia she had been involved with Columbia's improv club and developed her own. She is apart of a two woman musical improv duo Charaidan. She has done some of her best work in Charaidan and she is so proud of what it has become. Charlotte is now focusing on furthering her web and video presence. She started a sketch production company this year, Chark Sketch Productions. They released their first sketch in March and it was a success.
Charlotte plans to continue her training at IO and the Second City. She is so happy that she was able to leave her small town in the mountains so that she could live out her dreams. Every day she feels closer to the end goal. But the end goal is just happiness she says. "As long as I'm laughing and the people are laughing, life is good."
Character Statistics
Roles
Your browser cannot display this piechart for stats on actors.
Status
Your browser cannot display this piechart for stats on actors.
Note: Character roles may exceed the number of characters played, if the character was on multiple TV shows.
This page was last edited on December 26th, 2017.