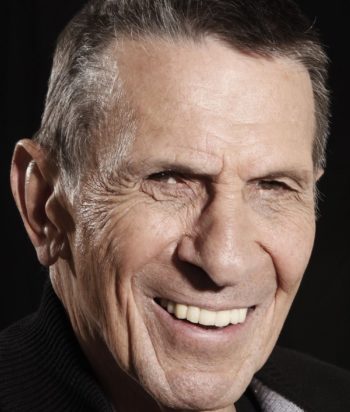 Actor Bio
Leonard Simon Nimoy was born in Boston, Massachusetts, to Dora (Spinner) and Max Nimoy, who owned a barbershop. His parents were Ukrainian Jewish immigrants. Raised in a tenement and acting in community theaters since age eight, Nimoy did not make his Hollywood debut until he was 20, with a bit part in Queen for a Day (1951) and another as a ballplayer in the perennial Rhubarb (1951).
After two years in the United States Army, he was still getting small, often uncredited parts, like an Army telex operator in Them! (1954). His part as Narab, a Martian finally friendly to Earth, in the closing scene in the corny Republic serial Zombies of the Stratosphere (1952), somewhat foreshadowed the role which would make him a household name: Mr. Spock, the half-human/half-Vulcan science officer on Star Trek (1966) one of television's all-time most successful series. His performance won him three Emmy nominations and launched his career as a writer and director, notably of Star Trek IV: The Voyage Home (1986), the story of a humpback whale rescue that proved the most successful of the Star Trek movies.
Stage credits have included "Fiddler on the Roof", "Oliver", "Camelot" and "Equus". He has hosted the well-known television series In Search of… (1976) and Ancient Mysteries (1994), authored several volumes of poetry and guest-starred on two episodes of The Simpsons (1989). In the latter years of his career, he played Mustafa Mond in NBC's telling of Aldous Huxley's Brave New World (1998), voiced Sentinel Prime in the blockbuster Transformers: Dark of the Moon (2011), and played Spock again in two new Star Trek films, Star Trek (2009) and Star Trek Into Darkness (2013).
Leonard Nimoy died on February 27, 2015 in Bel Air, Los Angeles, California, of end-stage chronic obstructive pulmonary disease. He was 83.
Actor Information
Born: March 26, 1931
Age: 83 years old
Died: February 27, 2015
---
This page was last edited on October 28th, 2021.