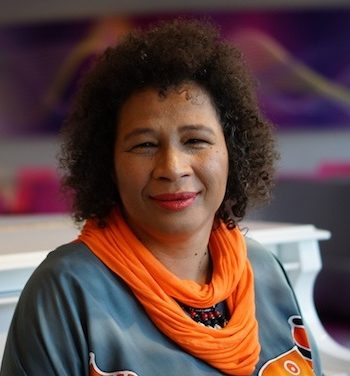 Actor Bio
An accomplished and award winning Writer and Director from Namibia, now living in Berlin, Germany.
She launched her writing and directing career with her first play titled This is our Life which was successfully performed at the National Theatre of Namibia for several weeks (a powerful story about the rising numbers of teenage pregnancies) in Namibia.
The success of this brought her into the National Theatre Arena of Namibia and she went on to direct and write over 25 major plays all of which have been staged nationally and most have toured the country.
Naomi's writings have covered a diverse range of issues, subjects and dramas for a wide and broad audience, ranging from adults to school and nursery children. Some of her notable and successful plays include Aids (1995, haunting stories to avoid aids), Othello and Idealist – Terrorist (2009, a poignant story about a politicians wife, whose sister is part of a underground terrorist group in Germany).
Idealist – Terrorist was adapted as a screenplay and produced as a short film on the international web. She has written extensively for children and her notable works include, Alice in the Rain Forest (2005, a humorous story for children on preserving forests), The Puppet Maker (2007, a dance project to promote social awareness amongst children).
Her play, Namibian Roulette (1994, during the abundance of weapons in Namibia a rural family's struggles against the weapon culture went wrong when one son dies), went on to win the National Theatre Awards for Schools in Namibia. One of her plays also reached the finals in the Wildsound Screenplay Competition, based in Toronto.
During Naomi's extensive writing career she has also joined workshops on writing drama series including for National German Television and has worked on developing for major series such as Gute Zeiten, schlechte Zeiten.
Naomi is currently in development of her first feature film script with the French Producer, Luc Ntonga(Cosmopolis Films). The Fire in Me (2008, is a heartwarming story about two women's friendship and their determination to stop a cruelling ritual against girls in the Namib Desert). The Fire in Me is also Naomi's first published novel (2005).
As well as her writing and directing career, Naomi has developed a National Theatre programme for schools and further education and is currently teaching and implementing that program.
Characters
There is 1 character listed for this actor; none are dead.
This page was last edited on April 17th, 2019.