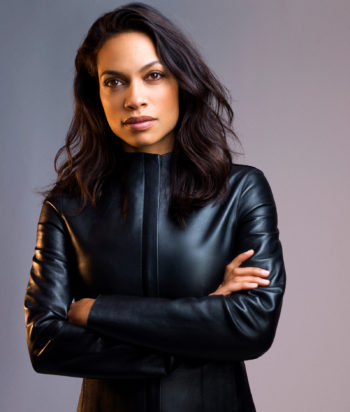 Biography
Rosario was born in New York City. Her mother, Isabel Celeste, of Puerto Rican and Afro-Cuban descent, is a singer, and her stepfather, who raised her, Greg Dawson, of Irish descent, is a construction laborer. Her parents, who married when both were teenagers, eventually divorced. Rosario and her younger brother, Clay Dawson, had it hard while growing up, and were cared for by family members.
Her career actually started as a child when she made a minor showing on the children's show, Sesame Street (1969). As the story goes, she was "discovered" as an adolescent on her front porch step by two photographers. One of them, Harmony Korine, was an aspiring screenwriter who thought the inexperienced sixteen-year-old was ideal for the controversial cult film Kids (1995).
She lucked into and got to show off her singing chops in the film adaptation of the hit New York musical Rent (2005), when Daphne Rubin-Vega, the original Mimi, became pregnant and was unable to reprise her role.
Off-camera, Dawson is highly active in political, social and environmental causes and has been involved with such organizations/charities/campaigns as the Lower East Side Girls Club, Global Cool, the O.N.E. Campaign, Oxfam, Amnesty International, Parents, Families and Friends of Lesbians and Gays, Control Arms, International Rescue Committee, Voto Latino (which she founded), Conservation International, Doctors Without Borders, National Geographic Society, The Nature Conservancy and Save the Children. In October 2008, she lent her voice to the RESPECT! Campaign, a movement aimed at preventing domestic violence.
In 2020 she came out while discussing her boyfriend, Cory Booker.
"People kept saying that I [came out]… I didn't do that," she says. "I mean, it's not inaccurate, but I never did come out come out. I mean, I guess I am now."
Characters
There is 1 character listed for this actor; none are dead.
Character Statistics
Roles
Your browser cannot display this piechart for stats on actors.
Status
Your browser cannot display this piechart for stats on actors.
Note: Character roles may exceed the number of characters played, if the character was on multiple TV shows.
This page was last edited on January 23rd, 2021.