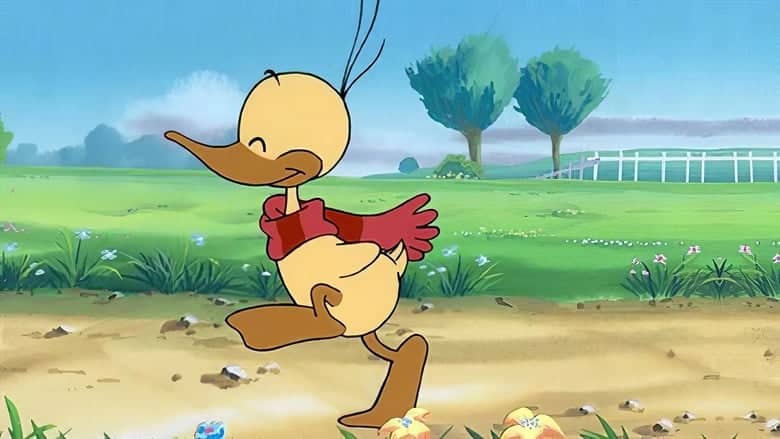 Overview
Alfred J. Kwak was born as the son of Johan Sebastian and Anna Kwak. Some time after his birth, Alfred loses his parents and his brothers and sisters after a car hits them. Henk the mole, a good friend of the Kwak family, raises the little orphan duck. Alfred experiences a lot of adventures.
Unlike many other cartoons targeted for children, Alfred J. Kwak features exceptionally mature and often dark themes. Amongst others it deals with different social and political issues, such as abuse of power, but also raises important values such as friendship and solidarity.
The cartoon is also notable for the political themes on which it touches. In the cartoon, Alfred fights against a fascist dictator, takes in refugees fleeing from a country under Apartheid (with white geese and black ducks), saves whales against hunters, and oversees the changeover of his country from an absolute monarchy to a constitutional monarchy with a democratically elected president. Such themes are far from typical in a children's cartoon, and form a big part of Alfred J. Kwak's appeal. Other episodes have satirised the Japanese love of golf, and criticised countries which have sharp north/south economic divides.
The cartoon is also unusual for the subtlety of its long-term narrative. In most children's cartoons, the characters do not age. In Alfred J. Kwak, we see the progress of the main characters from very young children to adulthood as the series advances. This is particularly striking in the character of Dolf, who is initially a mere schoolboy, but who, as time passes, becomes a criminal and a dictator.
Characters
There is 1 queer character listed for this show; none are dead.
Recurring (1)
This page was last edited on February 7th, 2021.