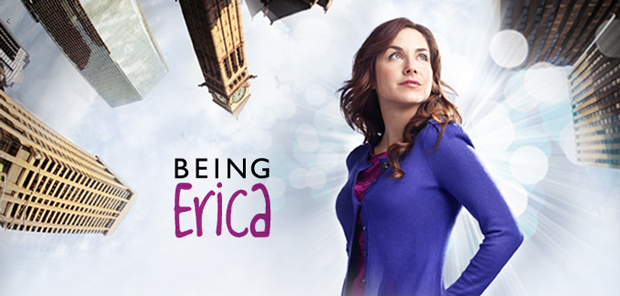 Overview
Erica has tons of regrets in her young life – so many she's started a list. But when she shares her list with her therapist, he undertakes an unusual course of treatment: She is transported back in time and given the chance to make different decisions at pivotal moments in her life, based on her knowledge of the here and now. From first kisses to job interviews, Erica has the chance to completely remake her life or leave things as they are.
Erica Strange is a young woman, smart and well-educated, but an underachiever who has been perennially unlucky in her career and her love life. After accidentally consuming a drink with hazelnut flavoring, to which she is allergic, she wakes up in the hospital and meets Dr. Tom, who claims that he can help her fix everything that is not going well in her life. Although initially reluctant, she soon learns that what he is offering is the ability to go back in time to relive and even change her deepest regrets.
Each time she faces a problem in the present, Dr. Tom sends her back to revisit a related regret. The situation is rarely as simple as it first appears: in nearly every case, the event she was seeking to avoid by acting differently still occurs, and she must instead seek out new information to uncover the event's real meaning, which gives her new insight into how to handle her problem in the present. It quickly becomes apparent the therapy's true purpose is not to let Erica erase her regrets but to help her improve her future by learning from past mistakes and making different decisions in the present.
Over the course of the series, the sessions also serve to reveal some of the limitations and complications, as well as the metaphysical implications, of the therapy process — such as whether a patient can intervene to change somebody else's destiny besides their own, whether the therapist can intervene on the patient's behalf to change their past without the patient's knowledge, whether a patient is allowed to reveal the future to another person during a session, and whether the therapy was ever really happening or was merely a dream all along. Later seasons introduce a group therapy session, where several patients gather to discuss and share ideas about one patient's time travel sessions.
Queer Plotline Timeline
While Erica sleeps with her best friend Cassidy while time traveling, Erica determines she's heterosexual. Therefore Cassidy is listed here, but Erica is not.
Characters
There are 2 queer characters listed for this show; none are dead.
Recurring (1)
Guest (1)
This page was last edited on November 17th, 2019.