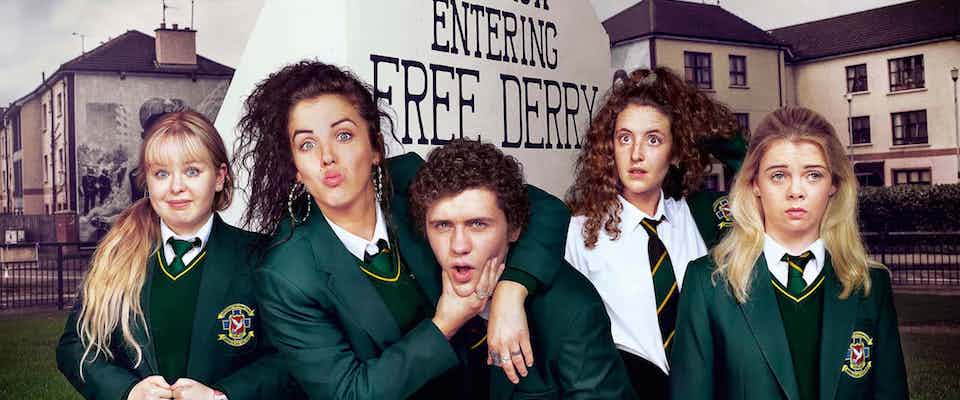 Overview
This show is about a group of high school girls and their families in Derry, Northern Ireland, set during The Troubles. The Troubles refers to a really violent thirty-year conflict that went on from 1968 to 1998, about the constitutional status of Northern Ireland. Arguably it started way earlier, but basically Ireland didn't want to be part of the United Kingdom, but Northern Ireland still is. Even though Derry is in the middle of conflict, the show is a hilarious comedy.
The show is brilliantly funny. Among other things, there's an English boy who has to go to an all girls' school, because otherwise he'd get bullied. The four bolshy schoolgirls swear, rant, and of course, face down cynical nuns.
Queer Plotline Timeline
The lesbian reveal is not until the last episode of season one.
Notable Queer-Centric Episodes
Season 1, Episode 6 - "Episode Six" Erin becomes the new editor of the school newspaper, and while desperate for a decent story to publish, raids the "Searching for Myself" writing contest entries and finds a student coming out story. She publishes it as "The Secret Life of a Lesbian" - despite Sister Michael forbidding her to. It turns out a member of Erin's core group of friends wrote the entry.
Characters
There are 2 queer characters listed for this show; none are dead.
Regular (1)
Guest (1)
This page was last edited on January 30th, 2022.