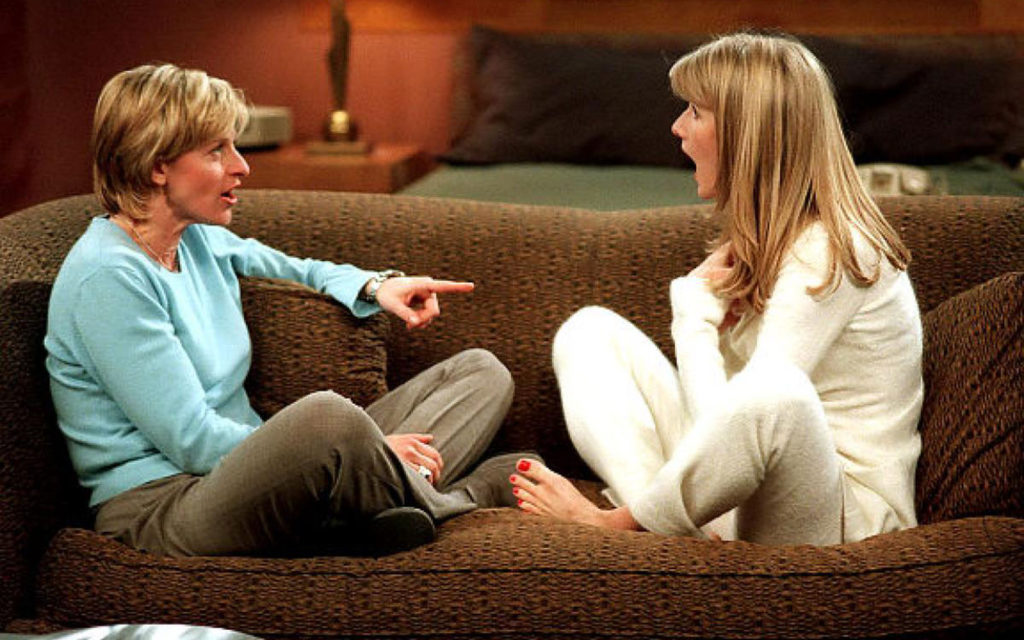 Overview
One more and we get that toaster, damn it!
Ellen (originally titled These Friends of Mine during its first season) centered on Ellen's dealing with her quirky friends, her family and the problems of daily life. In the 1997 episode "The Puppy Episode" Ellen's character came out as a lesbian. This event received a great deal of media exposure, ignited controversy, and prompted ABC to place a parental advisory at the beginning of each episode.
And yet we got a lesbian lead character who changed the world for us.
Thank you, Ellen.
Queer Plotline Timeline
Starting from "The Puppy Episode" onward, Ellen was gay. Just. Gay. Gay gay gay gay gaaaaaaaaaay. Start watching around Season 4, episode 18 for all the fun jokes. The series ended with Ellen and her girlfriend living in a much better, much gayer world.
Notable Queer-Centric Episodes
Season 4, Episode 22/23 "The Puppy Episode" - She's gay!
Season 5, Episode 9 "Gay Yellow Pages" - Ellen hires a gay plumber, or tries to
Season 5, Episode 11 "The Break Up" - Ellen and her girlfriend break up
Season 5, Episode 12 "Womyn Fest" - It's Lilith Fair.
Season 5, Episode 17 "It's a Gay, Gay, Gay, Gay World!" - Everyone's gay!
Characters
There are 8 queer characters listed for this show; none are dead.
Regulars (2)
Guests (6)
This page was last edited on June 12th, 2020.