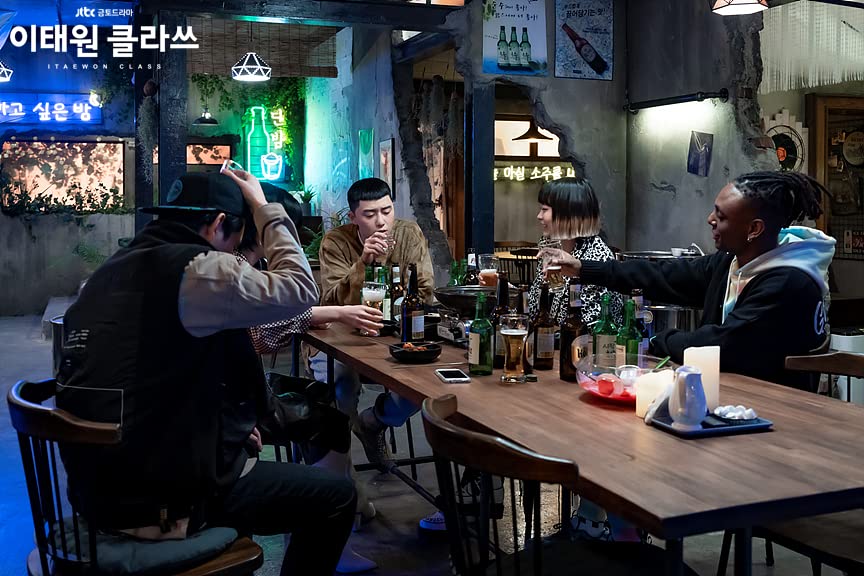 Overview
In 2006, high schooler Park Sae-Ro-Yi is jailed for two years after attempting to kill Jang Geun-Won. Geun-Won is the son of Jang Dae-Hee and heir to the Jangga Group, Korea's largest food corporation. Geun-Won accidentally killed Saeroyi's father in a car accident, but Dae-Hee had someone else take the blame; this is why Saeroyi tried to kill Geun-Won but his classmate and first love Oh Soo-A stopped him. He was arrested and tried guilty for attempted murder and assault, and vowed for vengeance.
In 2009, Saeroyi is released from jail. He used that time to study Dae-Hee's autobiography to understand his success and make plans for his future. Saeroyi comes to Itaewon, where he reunites with Soo-A and announces he wants to open his own restaurant. Saeroyi intends to carry out this plan seven years into the future while working for a fishing vessel. Soo-A was financially supported by Saeroyi's dad and carries guilt for her career path to Jangga. However, Saeroyi doesn't blame her. The two bid each other farewell and haven't seen each other since.
In 2016, seven years later, Saeroyi manages to open his restaurant-bar, Danbam. Working under him is Choi Seung-Kwon, Ma Hyun-Yi, Jo Yi-Seo, Jang Geun-Soo, and Tony Kim. Dae-Hee buys Danbam's building and would've bought every future building to hinder him; Saeroyi liquifies his stocks to buy his own building to avoid this. Geun-Soo is the second heir to Jangga and likes Yi-seo. However, Yi-Seo loves Saeroyi, which motivates Geun-Soo to leave and plot to ruin him. With Yi-Seo's help, Geun-Won's murder of Saeroyi's dad comes into light and he is sentenced to seven years in jail.
Danbam attracts a major investor to franchise their business. They name their company I.C. (Itaewon Class) Co. Their corporation nearly falls apart when the investor turns out to be an agent for Dae-Hee. However, they manage to find another rich investor. By 2020, the I.C. Company is the second largest competitor to Jangga. Geun-Soo has risen to director of Jangga. Geun-Won is released early from jail and on a quest for vengeance. Dae-Hee is diagnosed with pancreatic cancer and has only 6 months to live.
Saeroyi falls in love with Yi-Seo. Yi-Seo is kidnapped by Geun-Won and a gang led by Kim Hee-Hoon, Seung-Kwon's former boss. Saeroyi and Geon-soo race to get her back but Saeroyi is critically injured when he is run over by Hee-Hoon's men, who intended to hit Geun-Soo. In critical condition, he meets his father in the afterlife, but says he isn't ready to die yet and awakens.
After recovering, Saeroyi goes to see Dae-hee to know Geun-Won's whereabouts. Dae-hee forces him to kneel before him to save Yi-seo. Saeroyi rescues Yi-Seo, and he and his friends fight Geun-Won and Hee-Hoon's gang, ending with Hee-Hoon's defeat and Geun-Won's arrest. Jangga's reputation is ruined when Soo-A exposes 10 years' worth of illegal activities, forcing the company to close. Everyone severs ties with Dae-hee. As a last-ditch effort, he goes to see Saeroyi and kneels before him, pleading in tears. However, Saeroyi intends a corporate takeover by absorbing Jangga into IC. With his revenge completed and dating Yi-Seo, he finds peace.
Characters
There is 1 queer character listed for this show; none are dead.
Recurring (1)
This page was last edited on November 29th, 2020.