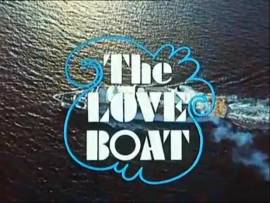 Overview
The Love Boat was about a cruise ship where people always seemed to fall in love and marry and live happily ever after. Made by that other TV maven, Aaron Spelling, it did rather well for 9 seasons, 4 movies, and 250 episodes.
"The Loooooove Boat " is the familiar refrain that greets viewers at the start of each episode of this long-running series. The romantic-sounding Love Boat promises — and delivers — something for everyone. Specifically, it promises a cavalcade of famous guest stars (including many film stars making then-rare TV appearances), breezy plots, stories of love and plenty of laughs. Join the members of the Pacific Princess crew, headed by Capt. Stubing, as they greet passengers for the trip of a lifetime. Three made-for-TV movies were made before the series premiered in 1977.
Notable Queer-Centric Episodes
In the episode "Gopher's Roommate," Gopher finds out the familiar lady he's flirting with is his roommate from college.
Characters
There is 1 queer character listed for this show; none are dead.
Guest (1)
This page was last edited on October 1st, 2018.