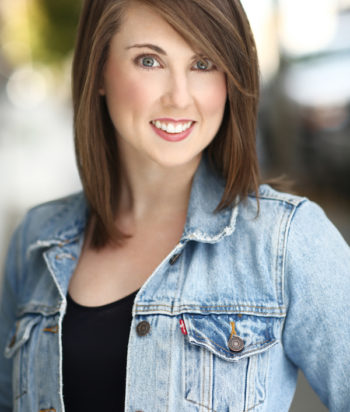 Biography
Emily Henney is a triple threat performer originally from Port Coquitlam, British Columbia. At the tender age of 4, she performed as a "rose bud" in her very first ballet recital at Chiasson Dance Centre. From there, she never looked back. Emily grew up dancing and competing in various styles from ballet, to hip-hop and dabbled in tap and jazz. It was when she joined the musical theatre class with Shelley Stewart (now Hunt) that she found her niche.
At 16, Emily was cast as Crissy in Riverside Secondary's production of Hair directed by Jennifer Blake, a Studio 58 graduate. From that point forward, Emily knew that theatre school was on the horizon and Studio 58 was the dream. Upon graduation, she enrolled in the Theatre Program at Douglas College where she met life long friends and mentors. When she graduated in 2007, she still wasn't satiated. There was still so much to learn and she hadn't given up on the dream of going to Studio 58. She tried out that season and, sadly, did not get in. But instead of sulking, Emily decided to continue her training and try again next year. Scott Swan, her mentor at Douglas College taught at Seacoast Theatre Centre and this was the next stop on Emily's journey. This magical place right on the beach in West Vancouver was where Emily discovered her passion for Shakespeare and learned how to let it all go and trust the work. It took two years of training and touring with this fantastic company of theatre artists for her to feel confident enough to give Studio 58 another go. This time, it paid off! Emily spent the next three years in the "basement" of Langara College learning how to go for the objective, how to listen to her scene partners and, most importantly, how to breathe. She was really beginning to trust herself as an actor while also gaining so much more experience in all aspects of theatre. She learned all about lighting, set and props building, publicity and even stage management. The best part was getting to be mentored by working professionals such as Scott Bellis, Sarah Rodgers, and Katrina Dunn to name a few. When she graduated in 2012, the world was her oyster.
Emily is now working professionally as an actor, singer, dancer and choreographer. Most recent performance credits include: Sissy – Cornwalls' All-Inclusive Cancun Christmas (Chemainus Theatre Festival *winter 2017*), Wendy Jo – Footloose (Chemainus Theatre Festival), Serena – Legally Blonde (TUTS), Nurse Dina – Untold Stories of the ER (TLC), Mary Lane – Reefer Madness (Awkward Stage Productions). Emily also works as a professional choreographer and musical theatre instructor at CSOPA in Chilliwack. There, she mentors and directs young people aged 8-12 at the intermediate level and also choreographs the annual Mainstage production with students aged 12-19. Most recent choreography credits include: Mary Poppins (2015) and The Little Mermaid (2016).
Characters
There is 1 character listed for this actor; none are dead.
Character Statistics
Roles
Your browser cannot display this piechart for stats on actors.
Status
Your browser cannot display this piechart for stats on actors.
Note: Character roles may exceed the number of characters played, if the character was on multiple TV shows.
This page was last edited on April 30th, 2018.