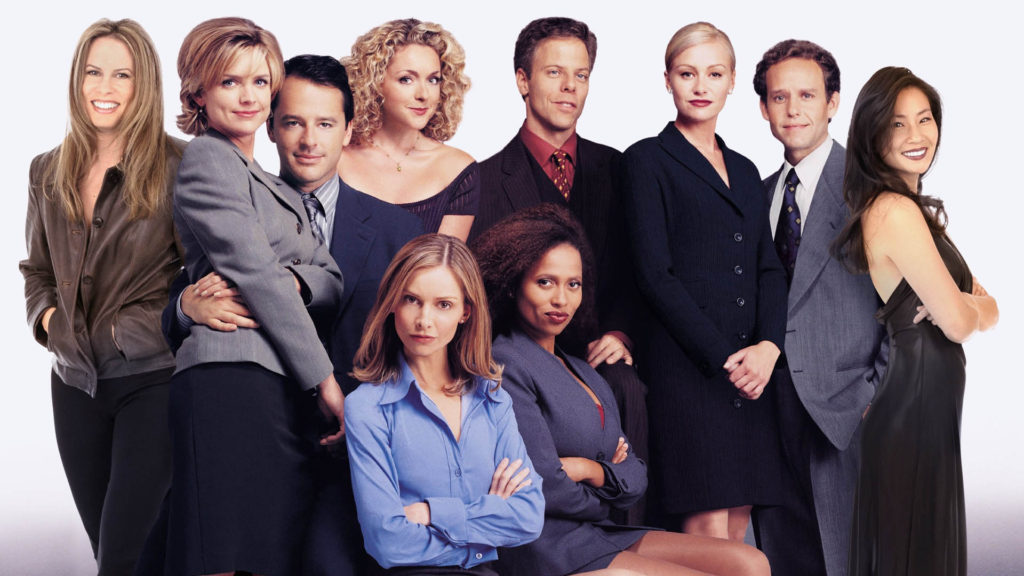 Overview
Dancing babies. Sniffing butts. Bathroom gymnastics.
This was never a show that everyone loved, but it was certainly the epitome of FOX shows in the 1990s. The show only lasted five seasons, starting the same year Ellen's character came out. The hour-long series was about a post-feminist lawyer, and made David E. Kelley a massive hit. The show was witty, it was anti-"p.c.", it had quirky characters, and it was a dramady. These were novel in the mid '90s.
But it was also horribly, deliberately, sensationalist. It played with contentious topics like homosexuality — especially lesbian experimentation. While there are multiple (multiple) same sex kisses between women on the show, every last damn one of them ended with the woman wanting men, or identifying as heterosexual. They flirted with the concept of heteroflexibility, certainly, and made it seem like of course all women are a little gay, but at the end of day, all the women wanted was a good, hard, penis.
They actually said it that way once, minus the 'hard' comment.
So why would we even list the show here if all it ever was, was quasi-gay for ratings?
Because they killed one trans-woman and made jokes about another.
Notable Queer-Centric Episodes
We're not even going to consider the myriad episodes where someone was 'experimenting' here.
We will mention "Boy To The World." Ally's client, Stephanie, is arrested for solicitation and everyone is shocked to find out she's MTF. Ally hires her, but Stephanie is murdered.
There's also a trio of episodes with Cindy (Girls' Night Out," "Two's a Crowd," and "Without a Net"), who fights a discrimination lawsuit over a mandated physical. She was born a man, and was avoiding the physical so they wouldn't find her penis. She ends up having to describe her entire transition process. Also she dates Mark, who doesn't know about the situation at first. When he does find out, Mark breaks up because he can't deal.
Characters
There are 2 queer characters listed for this show; 1 is dead.
Guests (2)