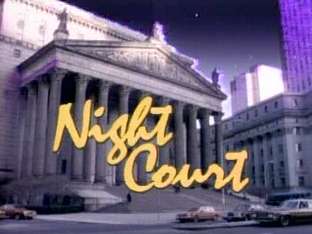 Overview
The goings on of the night shift at a wacky Manhattan municipal court, Criminal Court Part 2, presided over by a young, unorthodox judge, Harold T. "Harry" Stone.
Honorable Judge Harry T. Stone is a young, hip, jeans-wearing liberal eccentric presiding over the night shift of a Manhattan courtroom — which means his views on various cases aren't always normal, nor are his judgments. Helping him manage the chaos is not-so-bright yet softhearted courtroom guard Bull and egotistical prosecutor Dan Fielding. Also part of Stone's crew are passionate public defender Christine Sullivan and calm court clerk Mac.
The show was awesome for it's time, but as with so many things, does not hold up to a re-watch.
Notable Queer-Centric Episodes
In the episode "Best of Friends," Dan is upset when an old male friend comes to visit after having become a woman. In "Passion Plundered," Harry and Dan pursue a reporter sent to interview Harry, only to find out she is a lesbian.
Characters
There are 2 queer characters listed for this show; none are dead.
Guests (2)
This page was last edited on October 1st, 2018.