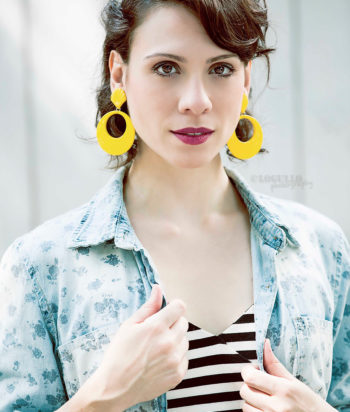 Biography
Luciana Bollina is an actress who graduated from the Nilton Travesso Actors School. She has been a professional actress, singer and dancer since 2004, having participated in Broadway productions: Chicago, Sweet Charity and Hair, as well as Brazilian musicals, such as Ary Barroso – from the beginning to the end – musical of Diogo Vilela in which Luciana acted as Carmen Miranda and Elizeth Cardozo, Tom and Vinícius – the musical directed by Daniel Herz, Pernas Pro Ar with Cláudia Raia, The Adventures of the Yogi Boy, directed by Arlindo Lopes and Juliana Terra and Brazilian radiophonies, by Bosco Brasil.
She studied with the singing teachers: Ana Taglianetti, Janaína Azevedo, Mirna Rubim, Marconi Araújo and Danilo Timm. In dance, she graduated from the Royal Academy of Dancing in classical ballet (1998) and specializes in the technique of Bob Fosse, having worked with Gary Christ (Chicago) and Alonso Barros (Sweet Charity), as well as mastering the tap dance and jazz styles.
In writing, she recently began his journey with the publication of his first Romance: "Clarices" in April 2013 by the publisher Philae. She is also the author of "Voo", her first monologue, in which she performed and produced in 2007 and 2008, in Sao Paulo at Teatrix and in Curitiba at the "Fringe" theater show. In 2013 she starred as Leah Felt in Arthur Miller's play "The Descent of Mount Mongan," directed by Luiz Villaça and featured in 10 episodes of the "Amor Veríssimo" series, aired on GNT cable channel in January 2014.
In 2014, Luciana debuted as director in the piece #NoNemEu, presented in the Satyros 2014 show and played by Jady Forte and Luisa Leveinstein and also in the show of the Not Recommended (Caio Prado, Daniel Chaudon and Diego Moraes), debuting in December at the Teatro Ipanema. Luciana joined the cast of the children's novel Gaby Estrela (Gloob – Globosat channel) in the role of teacher Sarah Lee. The novel had general direction of Claudio Boekel.
She is an actress in the RED web series, directed by Fernando Belo (over one million views worldwide and nominated for the 2014 and 2015 New York webseries award and Rio Webfest 2015 for best screenplay).
Character Statistics
Roles
Your browser cannot display this piechart for stats on actors.
Status
Your browser cannot display this piechart for stats on actors.
Note: Character roles may exceed the number of characters played, if the character was on multiple TV shows.
This page was last edited on April 18th, 2019.