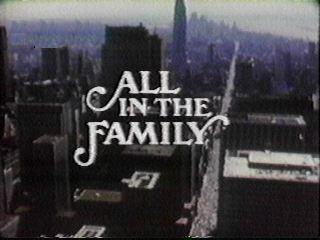 Overview
All in the Family revolves around Archie Bunker, a working-class World War II veteran living in Queens, New York. He is a short-tempered, outspoken bigot, seemingly prejudiced against everyone who is not a U.S.-born, heterosexual White Anglo-Saxon Protestant male, and dismissive of anyone not in agreement with his view of the world.
Naturally the world throws everything he hates at him.
Queer Plotline Timeline
"Archie the Hero" – Sept 29, 1975 – Archie saves Beverly's life via mouth-to-mouth
"Beverly Rides Again" – November 06, 1976 – Archie fixes up one of his drinking buddies with Beverly
"Cousin Liz" – October 09, 1977 – Archie and Edith attend the funeral of Edith's cousin whom Archie is shocked to learn was a lesbian.
"Edith's Crisis of Faith" – December 25, 1977 – Edith's religious faith is shaken after Beverly is brutally murdered by street thugs at Christmas.
Notable Queer-Centric Episodes
"Cousin Liz" is an episode of the American television situation comedy All in the Family. The story concerns lead character Edith Bunker's inheritance of a valuable tea service from her deceased cousin Liz and her decision, upon learning that Liz's "roommate" Veronica is really Liz's surviving longtime companion, to give Veronica the service. The second episode of season 8, "Cousin Liz" originally aired on October 9, 1977.
"Cousin Liz" was critically acclaimed, winning an Emmy Award for its script. The episode aired at a time when gay rights protections were being challenged through ballot initiatives and one of the writers believed that "Cousin Liz" was associated with the defeat of one such initiative.
Characters
There are 2 queer characters listed for this show; 1 is dead.
Guests (2)