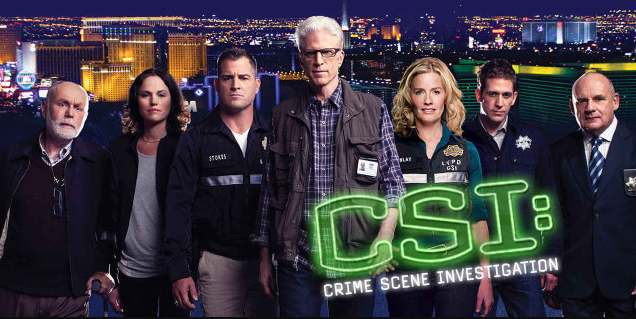 NOTICE: While generally acceptable for the over 14 crowd, there may be some sensitive topics now and then.
Overview
A dedicated group of forensic investigators at the Las Vegas Crime Lab works to solve often-grisly crimes in Sin City. Heading up the graveyard shift (an appropriate term in this case) is supervisor D.B. Russell, a "Left Coast" Sherlock Holmes who devours crime novels. Members of Russell's team include Julie Finlay, Nick Stokes, Sara Sidle (the team's moral compass), Greg Sanders and Morgan Brody. The investigative team works closely with Capt. Jim Brass — a seasoned detective who is a protector of CSI — Dr. Al Robbins — medical examiner — and quirky lab technician David Hodges. Previous leaders of the group include Gil Grissom and Dr. Ray Langston.
CSI re-wrote the book on crime procedurals, making it about the science. You name it, they investigated it. Despite the fact that one of the producers was openly gay, the show had an iffy track record with LGBT content.
Notable Queer-Centric Episodes
Season 1 Episode 5 "Friends & Lovers" - A closeted lesbian couple kill instead of letting themselves be outed.
Season 2, Episode 13 "Identity Crisis" - Serial killer Paul Millander is discovered to have been born a woman.
Season 4, Episode 17 "XX" - A prison romance ends in murder.
Season 5, Episode 8 "Ch-ch-changes" - The CSI's investigate the throat-slashing murder of a transgender showgirl.
Characters
There are 9 queer characters listed for this show; 3 are dead.
Recurring (1)
Guests (8)
This page was last edited on April 18th, 2022.