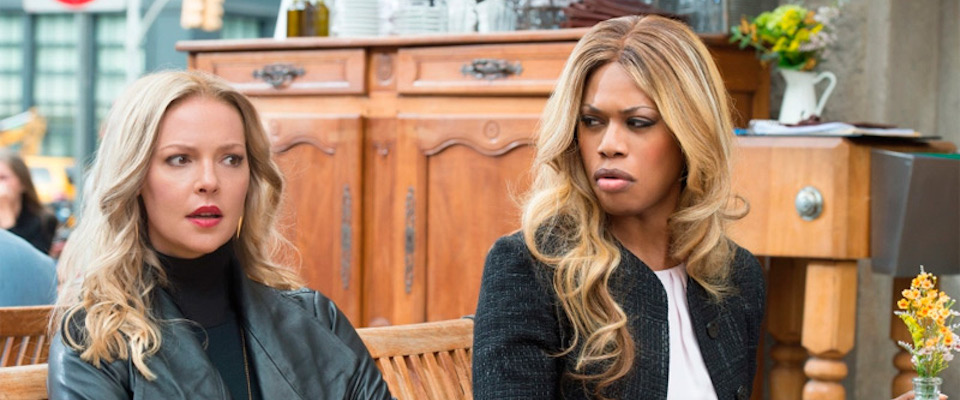 NOTICE: While generally acceptable for the over 14 crowd, there may be some sensitive topics now and then.
Overview
A soapy legal procedural that started and ended in 2017.
Laverne Cox was broadcast TV's first transgender actress playing a transgender main character on this show. Yay! Katherine Heigl was also on the show though so it really was no shock that it was canceled after two episodes, leaving 11 unaired. Then in the summer of that year, CBS played the episodes anyway, putting them up on CBS All Access.
It's a good thing they did, because in the unaired episodes, Cox's Cameron had a plot line! She also had the first sex scene for a trans woman on network TV. I know!
Everything was predictable and painfully obvious, but it was a halfway decent lawyer show. My one caution is the episode "Faith" talks about abuse and it's dark and painful.
Queer Plotline Timeline
Over the course of the first (and only) season, Cameron and her law school friend Peter begin dating. While Peter knew Cameron before she transitioned, it's much of a non-issue for him. And while he does balk a little about being open about their relationship, he also wants her to be with him when he starts a bid for public office.
Notable Queer-Centric Episodes
"Poison Prize" - Cameron runs into an old friend from Yale, who wants to date her. The catch? He knew Cameron before she transitioned.
"Faith" - Cameron and Albert defend a transwoman arrested for stabbing a famous baseball player.
Characters
There are 6 queer characters listed for this show; none are dead.
Regular (1)
Guests (5)
This page was last edited on April 19th, 2018.