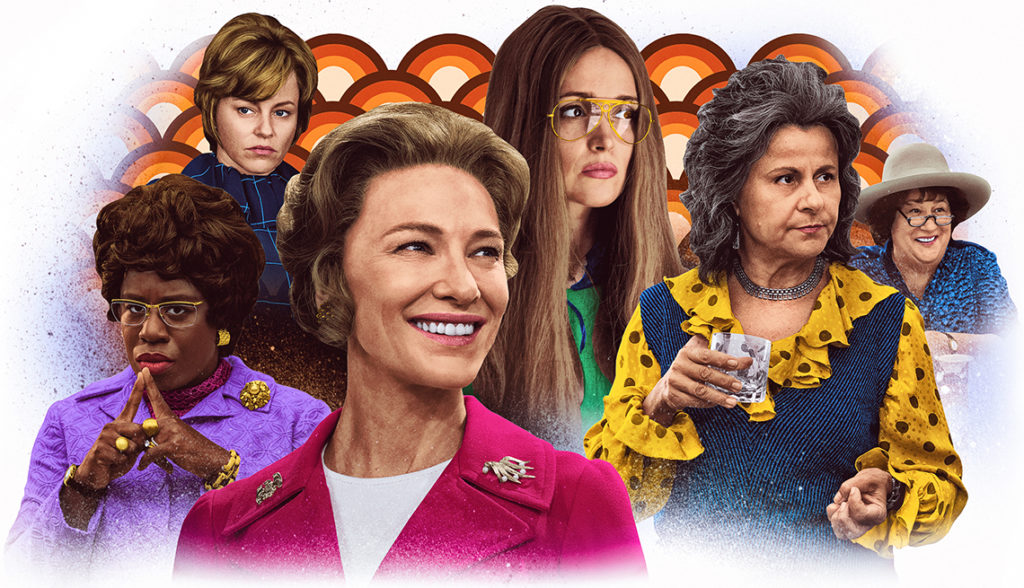 Overview
Mrs. America is loosely based on the story of the movement to ratify the Equal Rights Amendment, and the unexpected backlash led by Phyllis Schlafly, played by Blanchett. Through the eyes of the women of that era —both Schlafly and second-wave feminists Gloria Steinem, Betty Friedan, Shirley Chisholm, Bella Abzug and Jill Ruckelshaus—the series explores how one of the toughest battlegrounds in the culture wars of the '70s helped give rise to the Moral Majority and shifted the American political landscape. Every episode contains an opening message which acknowledges that scenes and characters are partially fictionalized for creative purposes. Specifically, Sarah Paulson's character Alice Macray was fictional.
Notable Queer-Centric Episodes
Season 1 Episode 5 "Phyllis & Fred & Brenda & Marc" - While Brenda Fasteau and her husband Marc prepare for their TV debate with Phyllis Schlafly and her husband, Brenda has an affair with a photographer name Jules played by Roberta Colindrez.
Season 1 Episode 7 "Bella" - Bella Abzug fights back against Gloria Steinem and Midge Constanza's push to put gay and lesbian rights on the agenda for the women's movement.
Characters
There are 5 queer characters listed for this show; none are dead.
Recurring (3)
Guests (2)
This page was last edited on March 7th, 2021.