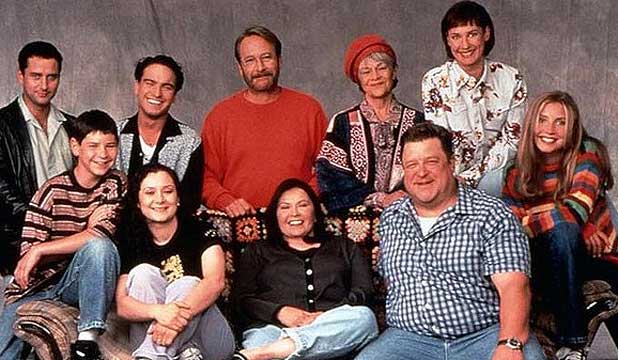 Overview
A suburban waitress and housewife, her mechanic husband, their three children, her sister, and shenanigans. The early seasons of Roseanne were actually pretty awesome, and brought us Sara Gilbert. But somewhere between the multiple Becky's and the overly meta commentary, the show jumped the shark and went weird.
The problem with season nine is that either a mess of characters were gay or no one was. Because in the finale episode it was revealed that Roseanne had made up the last season and written about everyone in her book. As the character explains:
My mom came from a generation where women were supposed to be submissive about everything. I never bought into that, and I wish Mom hadn't either. I wish she had made different choices. So I think that's why I made her gay. I wanted her to have some sense of herself as a woman.

[…]

My sister in real life, unlike my mother, is gay. She always told me she was gay. But for some reason, I always pictured her with a man.
What the hell, Roseanne!?!
The show ran from 1988 to 1997, but was revived in 2017. The revival did a lot of retroactive continuity (aka retcon) to mess with our heads, and initially was renewed for 2 more seasons. Then, on May 29, 2018, Rosanne went off with a racist tirade on Twitter. Before lunch, the show was canceled again.
Queer Plotline Timeline
Season 5 Nancy comes out. Season 9 Bev comes out, but at the end of the season it's revealed that's only in Roseanne's book. In reality, it's Jackie who's the lesbian! Season 10 Retcon time!
Neither Jackie nor Bev are actually gay
Darlene's son, Mark, is gender-creative, but that just means he likes to wear dresses
Notable Queer-Centric Episodes
Season 5, Episode 8 "Ladies' Choice" - Nancy announces her new 'guy' is named Maria.
Season 6, Episode 18 "Don't Ask, Don't Tell" - Rosanne kisses a woman. For sweeps.
Season 8, Episode 7 "The Getaway, Almost" - Jackie sure seems lesbianish...
Season 9, Episode 10 "Home Is Where the Afghan Is" - Bev (Rosanne's mother) comes out as gay.
Season 9, Episode 24 "Into That Good Night, Part 2" - Surprise! It's Jackie who's gay!
Characters
There are 6 queer characters listed for this show; none are dead.
Regulars (2)
Recurring (1)
Guests (3)
This page was last edited on July 26th, 2019.