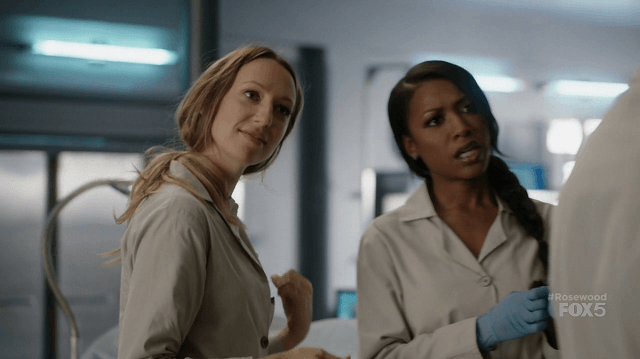 Overview
Rosewood is about a private pathologist who works with law enforcement in Miami.
Okay then!
It's a show I skipped, since it's all kinds of predictable. A super cocky, sexy, male lead (who is probably deemed 'edgy' because he's black), a really opinionated female lead, and the obligatory Miami crap of beaches, dead bodies, scantily clad ladies, and fast cars.
Tucked away in CSI: Miami Lite is an interracial lesbian couple. They work together and their moms bickered about their relationship, but they're kind of cute. Not enough for me to watch the show, but they're certainly not offensive. And considering the show's on FOX, that's damned impressive.
They broke up after TMI kissed a guy but then got back together and the show was canceled. So I guess that counts for a happy ending?
Queer Plotline Timeline
Pippy and TMI are engaged when the show starts. As time goes on, TMI feels like she latched on to Pippy after coming out as bi, and she didn't really know herself anymore. So they broke up. WTF TMI?
Characters
There are 3 queer characters listed for this show; none are dead.
Regulars (2)
Guest (1)
This page was last edited on January 21st, 2018.