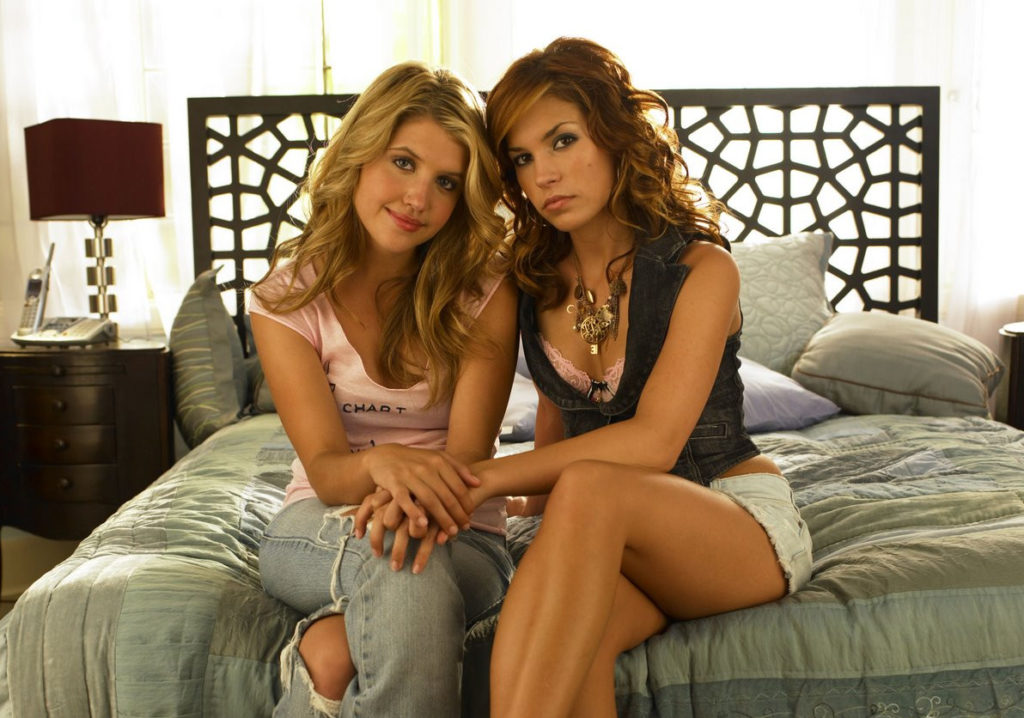 Overview
South of Nowhere is an American teen drama television series about a family from Ohio who moved to LA. Shenanigans!
The close friendship between Ashley and Spencer led Spencer to question her own sexuality, a subject which created controversy before the show first aired. It was the first series on The N (now TeenNick) to deal with the subject relating to the primary characters. Parent discussion guides were available for each episode on The N's website. The guides offered tips and questions about the topics raised in South of Nowhere, especially those centered around sexual identity, to use as discussion starters with teenagers.
The show ran for three seasons plus live webisodes created to accompany each episode in the season two storyline, and were seen exclusively through The N's website on the Click.
Queer Plotline Timeline
After pushing and pulling for the length of the series, it ends with Spencer being out and proud, Ashley being past her commitment issues, and they move into a loft in Los Angeles together. For all doubters, the show made a post-finale webisode to prove that Spencer and Ashley made it.
Notable Queer-Centric Episodes
Season One Episode 5 "Girl's Guide to Dating" - Spencer and Ashley ditch school and go to the beach. Spencer starts talking to Ashley about a girl she has a crush on (she is really referring to Ashley) and how she's started to develop feelings for her. The look that Spencer gives Ashley at the end of this episode as the moment we all knew Spashley would be something special. (The look above is from the very beginning of the episode, so you can imagine how powerful the ending moment is)
Season One Episode 9 "Say It Ain't So, Spencer" - Rumors are circulating about Spencer and Ashley. The reality of being gay and having feelings for Ashley freaks Spencer out. She tests the waters by going out on a date with Aiden (again). Ashley, feeling like she is losing Spencer, spirals out of control. The episode ends with Spencer apologizing to Ashley and staying the night to take care of her. Spencer: "I'm sorry. I was freaked out. I didn't want to deal with being gay, but I couldn't deal with not being with you."
Season One Episode 10 "What Just Happened" - After nursing Ashley through a rough night, Ashley and Spencer are closer than ever. When Spencer comes home she gets into an argument with Paula over Ashley, pushing Spencer further away. Towards the end of the episode, Spencer and Ashley have their first kiss and their first night together.
Season Two Episode 7 "Come Out, Come Out Wherever You Are" - Spencer and Ashley have been dating for a while. Spencer's brothers know, but she is afraid to tell her mother. She decides she wants to come out to her father first. Unfortunately things didn't quite work out as planned. The episode ends with Spencer's mother walking in on Spencer and Ashley.
Season Two Episode 8 "That's the Way the World Crumbles" - The episode starts with Spencer's mother, Paula,  walking in on Spencer and Ashley. Paula pull Ashley door the stairs and out of the house. After she closes the front door she turns around to Spencer and says "You disgust me." and in response Spencer yells "I hate you!" Paula can't deal with the fact that her daughter's in love with another girl. When she cuts off Spencer from Ashley, she unintentionally drives Spencer away from her family.
Season Three Episode 4 "Spencer's New Girlfriend" - A lot of things have happen since season two, but it's right there in the episode title. Spencer's got a new girlfriend
Season Three Episode 8 "Gay Pride" - Spencer wants Paula to go to Pride with her, but Paula has to work. Ashley comes by the Carlin house later that day and finds Paula crying. An unlikely friendship is formed when Ashley convinces Paula to go to Pride with her Spencer surprises Ashley, by showing up at her loft with nothing on but a jacket and high heels and they end up sleeping together. Spashley is back together!
Season Three Episode 10 "Spencer's 18th Birthday" - It's the weekend of Spencer's eighteenth birthday, and her grandmother's flying in to celebrate with the family. Paula stands for Spencer against her grandmother's conservative and disapproving views.
Characters
There are 7 queer characters listed for this show; none are dead.
Regulars (2)
Guests (5)
This page was last edited on January 16th, 2023.