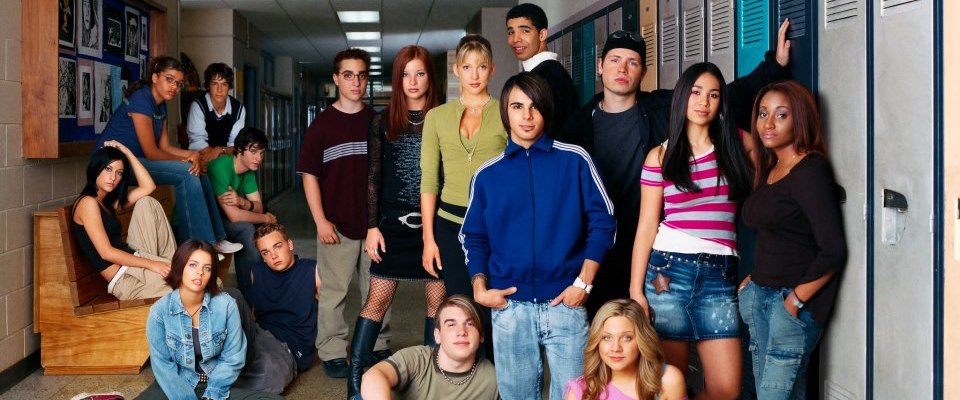 Overview
If you're Canadian, or Canadian Adjacent, you know Degrassi as the cutting edge teen drama that was actually like high school. In fact, when my friends told me about things like 90210, I was astounded to see they'd cast 20 year olds as 15 year olds, when Degrassi had been getting things right forever.
The cast has such a high turnover rate, I couldn't even come up with a header image to use. Once your character hits 18 and you graduate, you're out. It's like the TV version of Menudo.
If you tried to list all the gay kids at Degrassi, you'd wonder what they put in the water there. The first one we met was Alex Nuñez, a bad girl struggling to find herself. And she did with the 'straight' Paige Michalchuck. Paige later identified as bisexual and Alex vanished off into the adult world of being a physical therapist somewhere with Carla Carlisle. Next we had Fiona Coyne, rich girl at public school, who fell for a straight girl before finding quirky (and possibly bi) Imogen Moreno. Imogen was last seen dating a girl named Jack – Jaqueline Jones – and smoking pot. Like you do.
Adam was notable for dating a pretty devout Christian girl who informed her parents that Adam couldn't be a woman, because she was straight and in love with Adam.
The show was continued in Degrassi: Next Class.
Queer Plotline Timeline
It's not until Season 5 that Paige and Alex get things sorted out, and as with all Degrassi love affairs, it's brief. From season 5 onward, though, there's pretty much at least one lesbian plot per season.
Notable Queer-Centric Episodes
Alex Nuñez
Season 5, Episode 11 "Lexicon of Love, Part One" - Paige and Alex get together
Season 5, Episode 18 "High Fidelity, Part One" - Paige and Alex break up
Season 6, Episode 14 "Free Fallin', Part 1" - Alex introduces us to Carla
Season 6, Episode 18 "Don't You Want Me, Part One" - Alex and Carla break up
Season 6, Episode 19 "Don't You Want Me, Part Two" - Paige and Alex get back together (yeah, really)
Season 7, Episode 3 "Love Is A Battlefield" - Paige and Alex break up again.
Fiona Coyne TBD Imogen Moreno TBD
Characters
There are 13 queer characters listed for this show; 1 is dead.
Regulars (6)
Recurring (2)
Guests (5)
This page was last edited on August 15th, 2019.